Don't forget you can wager on the races with AmWager
Wager on live horse races like a Pro with AmWager.
Simple…We are the best online wagering platform today. Real-time updates, exclusive tools, custom wagering types, player-focused design. Not using AmWager is like playing in the kiddie pool.
Powerful, fast, innovative, secure, yet easy to use! All because we value and listen to our customers.
Del Mar Race Track
Del Mar Racecourse is a horse-racing track in Del Mar, California, USA. It opened in 1937, at Jimmy Durante Blvd.
History of Del Mar Race Track
1936 – William A. Quigley spearheaded the establishment of the Del Mar Fairgrounds. He achieved his goal with Bing Crosby and founded the Del Mar turf Club on May 6, 1936.
1937 – On July 3, 1937, Bing Crosby (a famous singer) personally greeted his fans at the gate during the opening of the Del Mar racetrack. 
1938 –The famous Seabiscuit-Ligaroti had a match race on the track which drew 20,000 to the track and a nationwide radio audience on August 12, 1938. It had a close fight and intense duel, and Seabiscuit, under George (The Iceman) Woolf and 130 pounds, beat Ligaroti and Noel (Spec) Richardson at 115 by a nose.
1940 – Several Hollywood stars used Del Mar as a summer playground. 
1942 to 1944 – Del Mar Racing was closed because of the Second World War. It was utilized for training by the United States Marine Corps and as a manufacturing site for parts for B-17 bombers.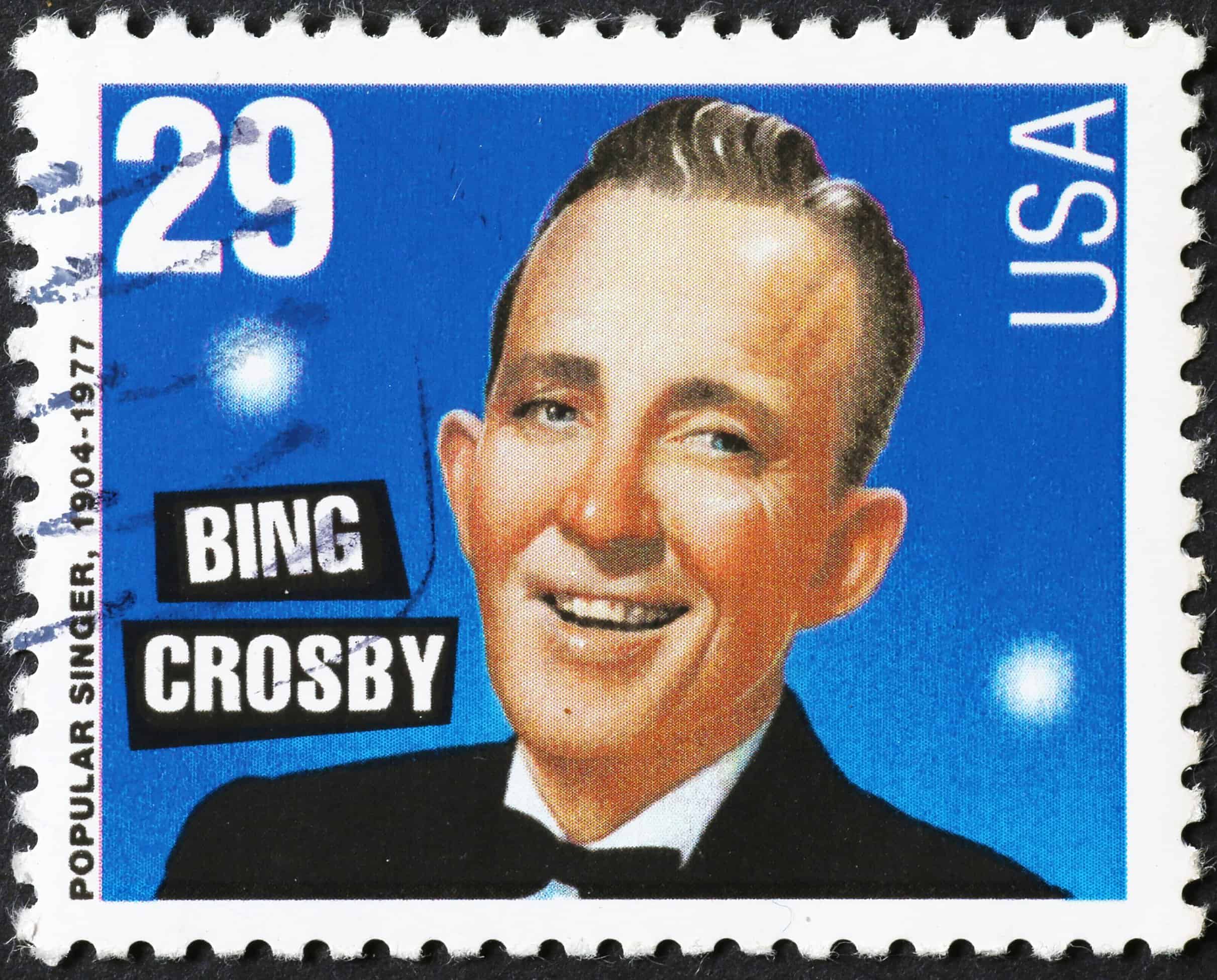 1946 – The first Bing Crosby Stakes was held at Del Mar.
In the late 1940s and 1950s – Del Mar Horse Racing became the Saratoga of the West for summer racing.
1956 – Del Mar horse race track showcased racing celebrities like Bill Shoemaker, John Longden, and Charlie Whittingham. On September 3, 1956, Longden became the world's winningest rider during that time at Del Mar.
1960 – Del Mar racecourse opened its new seven-eighths mile turf course. It has a peculiar diagonal chute starting for 1 1/16 and 1 1/8 miles.
1977 – Bing Crosby had his final visit to the track. Unfortunately, he died later, in 1977, due to a heart attack. Each summer, his legendary music continues to live on, titled "Where the Turf Meets the Surf."
1990 – The track had a major revamp. The grandstand was replaced.
1991 – The racecourse hosted its wealthiest race to date, the $1,000,000 Grade I Pacific Classic Stakes. It was first won by a top three-year-old named Best Pal.
1999 – Trainer Bob Baffert won all five of Del Mar's Grade I races. Four of which were ridden by David Flores.
2013 – In March, a vote was to extend the turf portion of the racecourse. Building started later in the year and was completed in time for the 2014 racing season. It expanded the course to 80 feet and softened the curve of the diagonal chute. 
2014 –Del Mar racetrack also enhanced the main track, installing El Segundo Sand. It also started to host more racing cards when the Hollywood Park Racetrack shut down. It added the fall meet the same year, featuring the Hollywood Turf Cup Stakes, Hollywood Derby, and Matriarch Stakes.
2015 – Del Mar race track opened its fall season to a dirt surface debut.
2017 – Del Mar Racing had its first Breeders' Cup in November.
2020 – The meet was held behind closed doors because of the COVID-19 pandemic.  
2021 – Live horse racing went operating again, but attendees were required to wear masks and practice social distancing. 
Del Mar's Legendary Number of Attendance
Del Mar is one of the racetracks that created history in horse racing as it continues to do outstanding numbers–30,578 for daily average attendance (1st in the nation) and a record $12,115,024 for daily average handle (2nd nationally). It also crowned a couple of new kings, and in 2006, it received a 42,005 audience, the second-largest crowd in track history. Even in 2010, despite the continuing recession that tightened the businesses, the track still managed to increase the daily on-track body count to 17,906, which hadn't been seen on the local scene since pre-ITW days. Then, the following year (2011), the track's Opening Day attendance rose to a single-day record of 46,588.
Track Details and other Facilities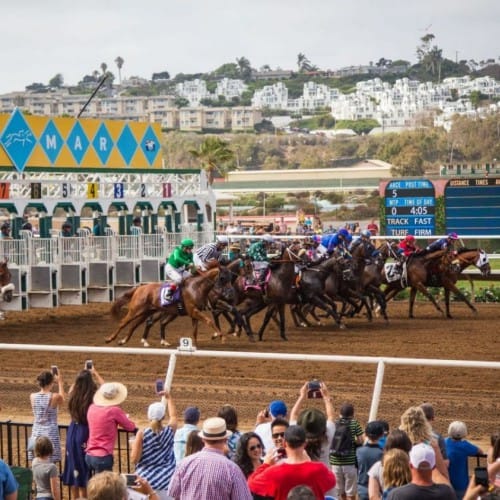 One mile (1.609 km) long with chutes for 7/8 and 1 1/4 mile races.

Seven-eighths mile oval with a diagonal straightaway

chute

for 1 1/16 and 1 1/8-mile races on the turf course. 
Races are run counterclockwise.

It can capacitate 44,000 guests, the second largest horse-racing venue in the western United States, after the nearby Santa Anita Park.

The turf is a mixture of Common Bermuda and Hybrid Bermuda (GN-1) and runs twice a year at the Del Mar Fairgrounds. 

It can stable more than two thousand horses. 

It is famous for its tan stucco grandstand located directly on the Pacific Ocean.

It is known for the slogans: "Where The Turf Meets The Surf" and "Cool as Ever". 
🐎

It has 3,500 seats in the fairgrounds complex

🐎

It is used for sporting events, concerts, and other special events.

🐎

It was built in 1991 and was remodeled in 2009. 

🐎

It was home of the San Diego Sockers indoor soccer team from 2009 to 2012.

🐎

The Del Mar National Horse Show is hosted here.
🐎

It measures 65 acres (26 ha).

🐎

It is 3 miles (4.8 km) east of the Del Mar Fairgrounds.

🐎

It has two grass jumping stadiums with 1,320 seats.

🐎

It is a covered and lighted arena

🐎

Four show rings

🐎

400 permanent show stalls

🐎

Dressage ring

🐎Four training rings
Features six exhibit halls with a total of 219,380 square feet (20,381 m

2

) of space:

Pat O'Brien Hall – 68,680 square feet (6,381 m

2

) of space, a ceiling height of 35 feet (11 m), and 6,800 seats (the largest). 

Exhibit Hall –55,200-square-foot (5,130 m

2

) and 5,500 seats. 

Bing Crosby Hall – 31,900 square feet (2,960 m

2

) of space and 3,500 seats. 

Wyland Center – 45-foot (14 m) with 30,800 square feet (2,860 m

2

) of space and 3,000 seats. 

Activity Center

–

19,800-square-foot (1,840 m

2

) and 2,200 seats. 

Mission Tower – 13,000 square feet (1,200 m

2

) of space and 1,200 seats.
It has two 18-hole miniature golf courses.
It has a driving range which is also utilized for additional parking during peak days.
It has a Golf Mart golf store.
It offers private lessons, clinics, and classes. 
It has two premium clubs, the Turf Club and Saddle Club. However, the two have no relations, as having one access to one club does not also give access to the other.
🐎

A Premium Club of the Del Mar

Thoroughbred

Club. 
🐎

Only members can enter the club
🐎

Members should wear a buttoned-up shirt and jacket for men.
🐎

A Premium Club of Surfside Race Place. 
🐎

Anyone can visit for a daily fee. 

🐎

There is no dress code.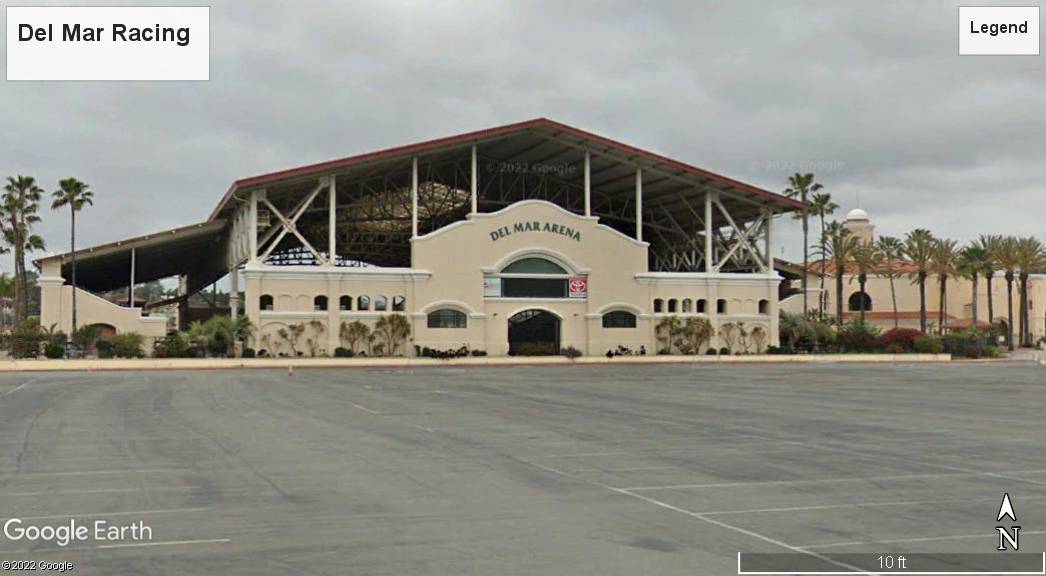 Major Events and Schedule
There are over 300 events that take place on the Del Mar Fairgrounds. However, the most well-known are:
🐴San Diego County Fair (known as Del Mar Fair before),

🐴Del Mar National Horse Show,

🐴Scream Zone, and

🐴Holiday of Lights
Del Mar Racing hosts live racing from July through early September and November (started in 2014). 
Opening Day at Del Mar with their famous hat contest
Friday Night Concerts 
Family Fun Day

Every Saturday and Sunday.
It features free entertainment for kids in the infield.

Camp Del Mar

A Daycare center for the kids, however, was discontinued in 2019.

Giveaway Days

Items vary, depending on what items are given.
Grade 1

🐴Bing Crosby Stakes

🐴Clement L. Hirsch Stakes

🐴Del Mar Debutante Stakes

🐴Del Mar Futurity

🐴Del Mar Oaks

🐴Pacific Classic Stakes
Grade 2

🐴Del Mar Mile Handicap
🐴Del Mar Derby
🐴Del Mar Handicap
🐴Eddie Read Stakes
🐴Hollywood Turf Cup Stakes
🐴John C. Mabee Stakes
🐴Pat O'Brien Stakes
🐴San Clemente Stakes
🐴San Diego Handicap
🐴Seabiscuit Handicap
🐴Sorrento Stakes
🐴Yellow Ribbon Handicap
Location and Access to the Racecourse​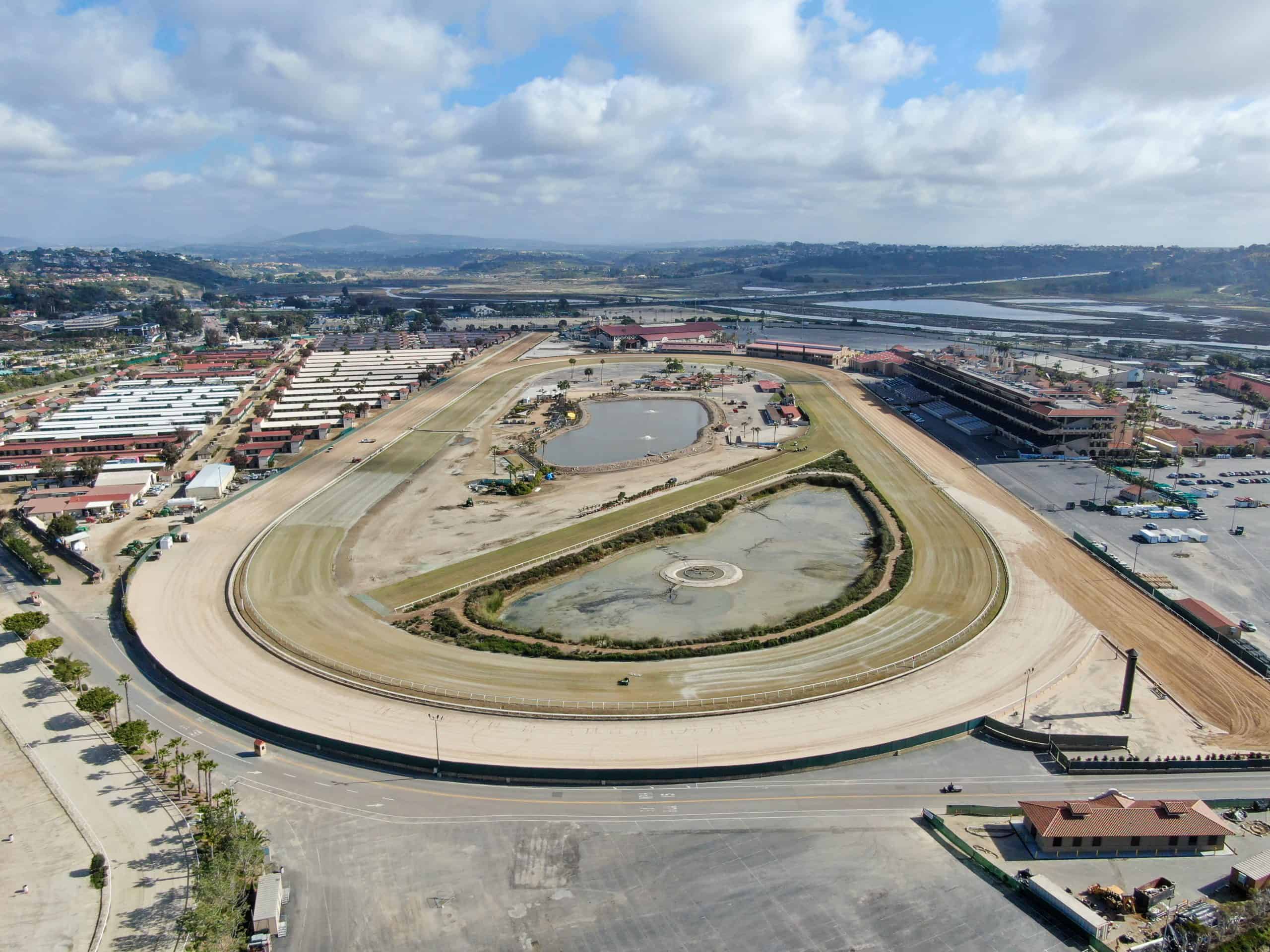 Del Mar race track is located just west of the I-5 freeway. The exit of Via de la Valle and head west to the Racetrack. It is located at 2260 Jimmy Durante Blvd, Del Mar, CA 92014.
Epic Limo Bus supplies limo and charter bus transportation to Del Mar Racetrack.
Del Mar Thoroughbred Club provides a free shuttle service for Racing Patrons arriving on Amtrak/Coaster at the Solana Beach Station.
Other racetracks are sorted and listed on the page "List of Racetracks". To view the full list, hit the button below. You can also check the horse racing types and breeds to have a lot more in-depth knowledge about horse racing. 
Are you interested in betting now? Why not try our horse racing betting tips, listen to our podcasts, and have higher chances of winning!
---
You can also check Del Mar entries and results using our AmWager platform for FREE!
It is easy to access and fast as 1, 2, 3!
So what are you waiting for?
STOP HORSING AROUND, GET SERIOUS, GET AMWAGER !
Sign Up now for FREE and wager like a PRO with AmWager