Don't forget you can wager on the races with AmWager
Wager on live horse races like a Pro with AmWager.
Simple…We are the best online wagering platform today. Real-time updates, exclusive tools, custom wagering types, player-focused design. Not using AmWager is like playing in the kiddie pool.
Powerful, fast, innovative, secure, yet easy to use! All because we value and listen to our customers.
Kentucky Downs
Kentucky Downs is a horse-racing track in Franklin, Kentucky, United States. It opened in 1990, at Nashville Road.
History of Kentucky Downs
1990 –
Ron Winchell and Marc Falcone opened the Kentucky Downs as Dueling Ground Racecourse on April 22, 1990.
1992
– The track conducted only 
steeplechase
 races in its first year but removed the
fences
and switched to
flat
racing. The first meet featured Dueling Grounds International with a
purse
of $750,000 that remains the richest in American
steeplechase
history. It was also utilized as a concert site and a bingo hall.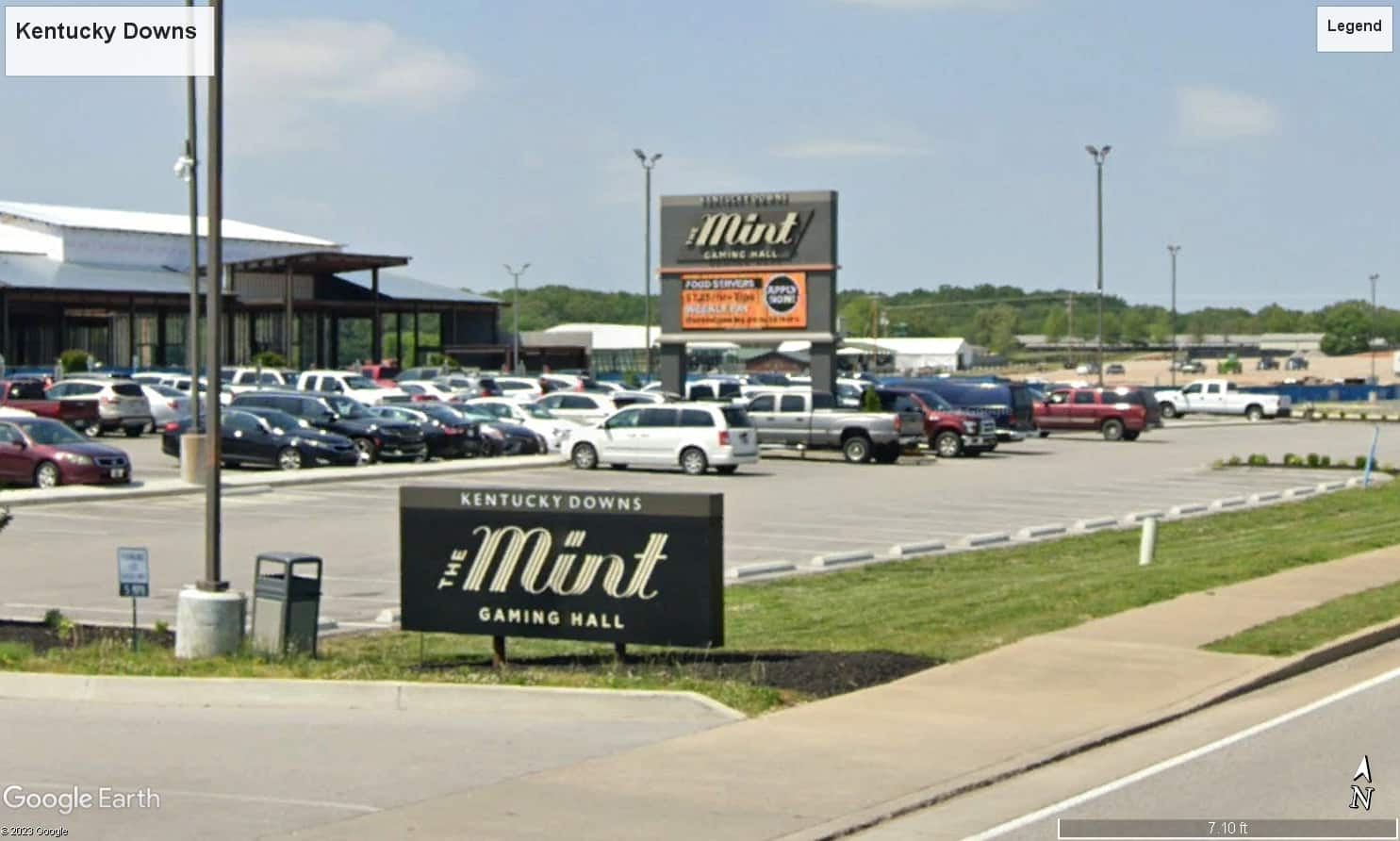 1997 – The track was purchased at auction by Turfway Park, Churchill Downs, and other investors. Turfway took over day-to-day management of the facility, having some of its existing staff do double duty at the new track. The name was changed to Kentucky Downs to remove the stigma attached to the Dueling Grounds brand under its previous mismanagement.
2000 – Steeplechase racing returned with a Grade II event and traditional flat racing.
2001 – The track returned to flat racing only.
2007 – A partnership led by investors Corey Johnsen and Ray Reid agreed to purchase 85% interest in the track in March 2007.
2008 – The track again resumed steeplechases.
2009 – The Horseplayers Association of North America introduced a rating system for 65 Thoroughbred racetracks in North America, in which Kentucky Downs was ranked #2.
2011 – Kentucky Downs introduced Instant Racing, a hybrid between slot machines and pari-mutuel wagering, where bettors play at a terminal using historical racing data and video on September 1, 2007.
2019 – The racetrack was acquired by Kentucky Racing Acquisition LLC in March 2019, making Ron Winchell (of Tapit fame) and Marc Falcone the current owners and managing partners of the track.
It is a Thoroughbred horse racing track with a European-style course. The name originated from the history of the Sandford Duncan farm, on whose property the track was located. The farm was the site of numerous duels in the 1800s because dueling was illegal in Tennessee but not Kentucky.
Track Details and Other Facilities
🐎

Turf Track

It is kidney shaped, Not Oval
It measures 1 mile and 550 yards (2.112 km) in

length

, with three turns.
It has an undulated and a unique right-hand bend. The track's average field size of about 11 horses per race.
The first turn is a sharp left-handed turn to the backstretch. Approximately 7 furlongs to the finish line, the course turns right. It then gradually turns left into the homestretch.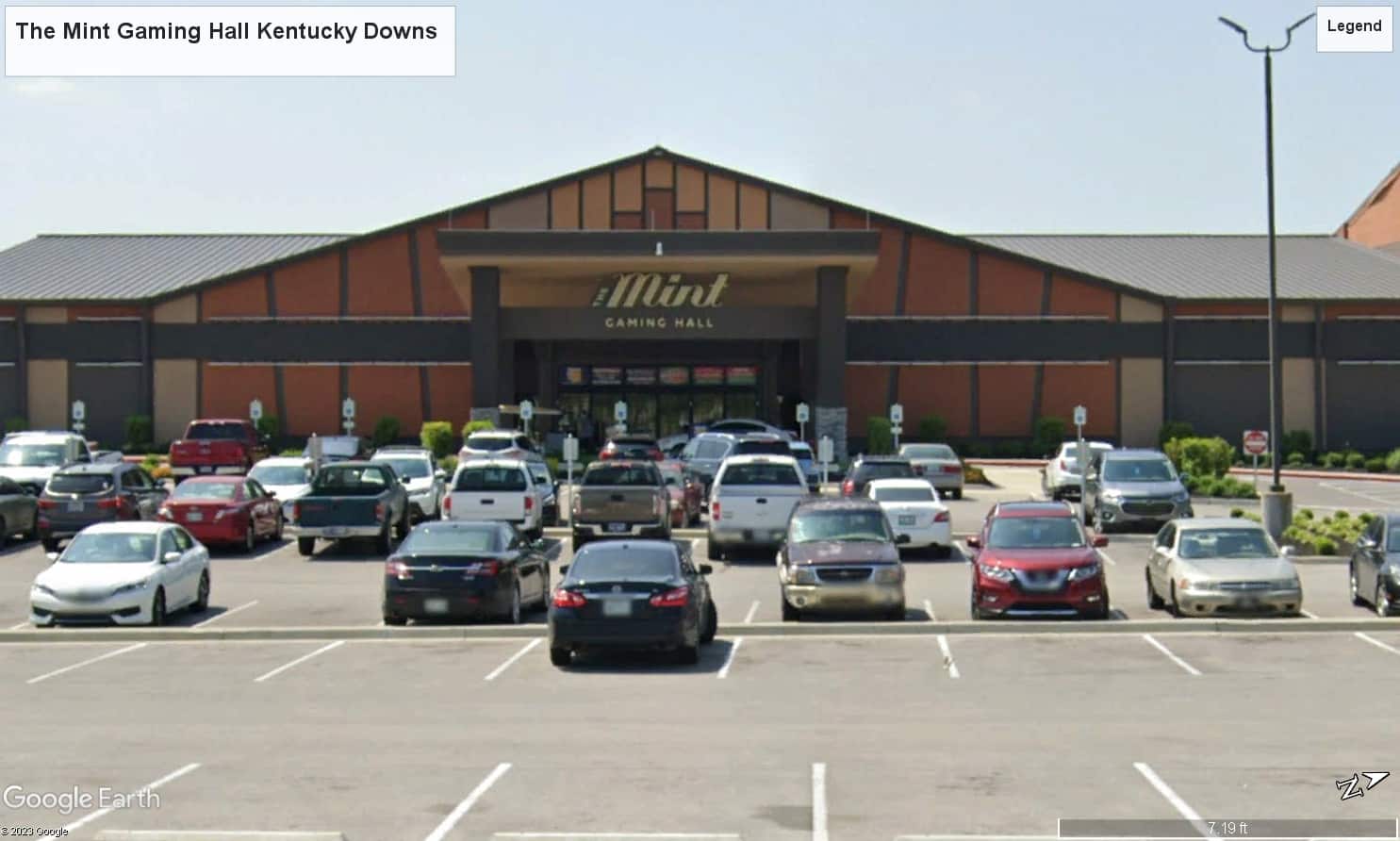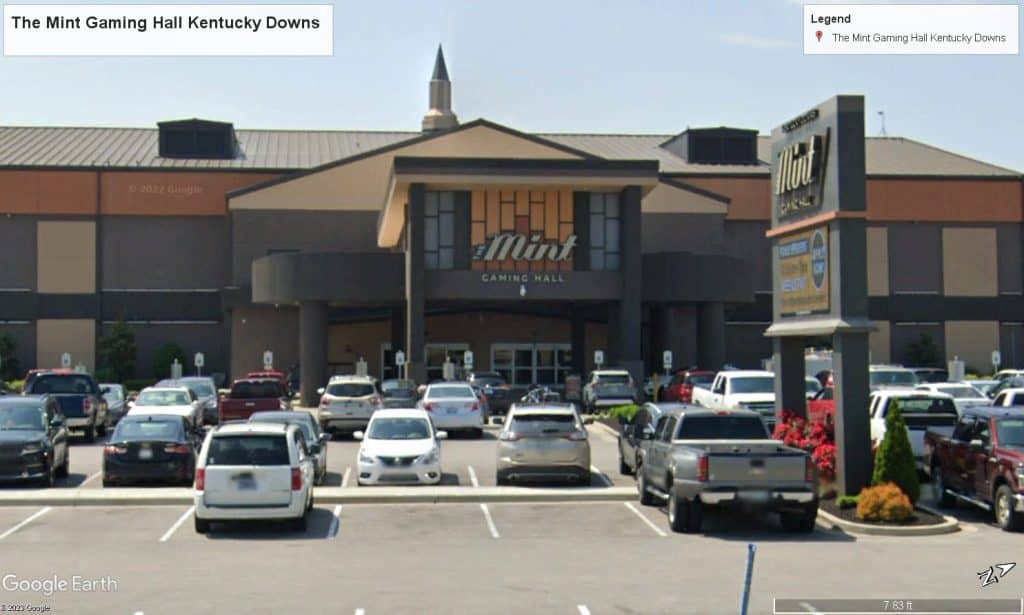 🐎Total Area

There is a total of 300 acres of land for seats.

🐎Seats

Unlike most racetracks, it does not have typical grandstand seating but includes stadium seats and picnic tables and even allows guests/audience to bring their own lawn chairs, blankets, and seating for a casual day at the races.

🐎

The Mint Gift Shop

Mint merchandise and grab 'n' go food and drink items are available.
Open Hours

Monday to Thursday – 12:00 noon to 10:00 pm.
Friday to Sunday – 12:00 noon to 12:00 midnight.
🐎

Event Center

It is a 5,000-square-foot event center for weddings, parties, conferences, corporate meetings, and live entertainment.
Accommodating groups from 12 to 445 people.
🐎

Casino

It has more than 1,000 gaming machines.
Open Hours

Monday to Wednesday – 9:00 am to 5:00 am.
Thursday (open at 9:00 am) to Sunday – Open 24 hours
🐎Irons steakhouse

Open Hours

Wednesday – 5:00 pm to 9:00 pm.
Thursday – 5:00 pm to 9:00 pm.
Friday to Saturday – 5:00 pm to 10:00 pm.
Sunday – 5:00 pm to 9:00 pm.
🐎Center bar

Offers a range of Cocktails & Beers
Open Hours

Sunday to Thursday – 9:00 am to 1:00 am.
Friday to Saturday – 9:00 am to 3:00 am.
🐎

Corner café

Open Hours

Monday to Thursday – 9:00 am to 11:00 pm.
Friday – 9:00 am to 1:00 am.
Saturday – 7:00 am to 1:000 am.
🐎

Oasis sidebar

It offers frozen cocktail, beer or drink.
Open Hours

Monday to Thursday – 4:00 pm to 12:00 midnight.
Friday to Saturday – 12:00 noon to 3:00 am.
Sunday – 12:00 noon to 12:00 midnight.
Race Schedule and Major Events & Races
Kentucky Downs Race Schedule
🐎Live Racing Schedule

Every seven (7) days each year, Kentucky Downs hosts one of the most exclusive thoroughbred horse racing meets in North America, normally takes place in late August to early September.
Grade II 

🐴

Kentucky Turf Cup

🐴

Kentucky Downs Turf Sprint Stakes
Grade III

🐴

Dueling Grounds Derby

🐴

Franklin-Simpson Stakes

🐴

Kentucky Downs Ladies Sprint Stakes

🐴

Kentucky Downs Ladies Turf Stakes

🐴

Kentucky Downs Ladies Marathon Stakes

🐴

Mint Million
🐴

Dueling Grounds Oaks

🐴

Kentucky Downs Juvenile Sprint

🐴

Kentucky Downs Juvenile Fillies

🐴

Kentucky Downs Juvenile Mile

🐴

Music City Stakes

🐴

One Dreamer Stakes

🐴

Tapit Stakes
Location and Access to the Racecourse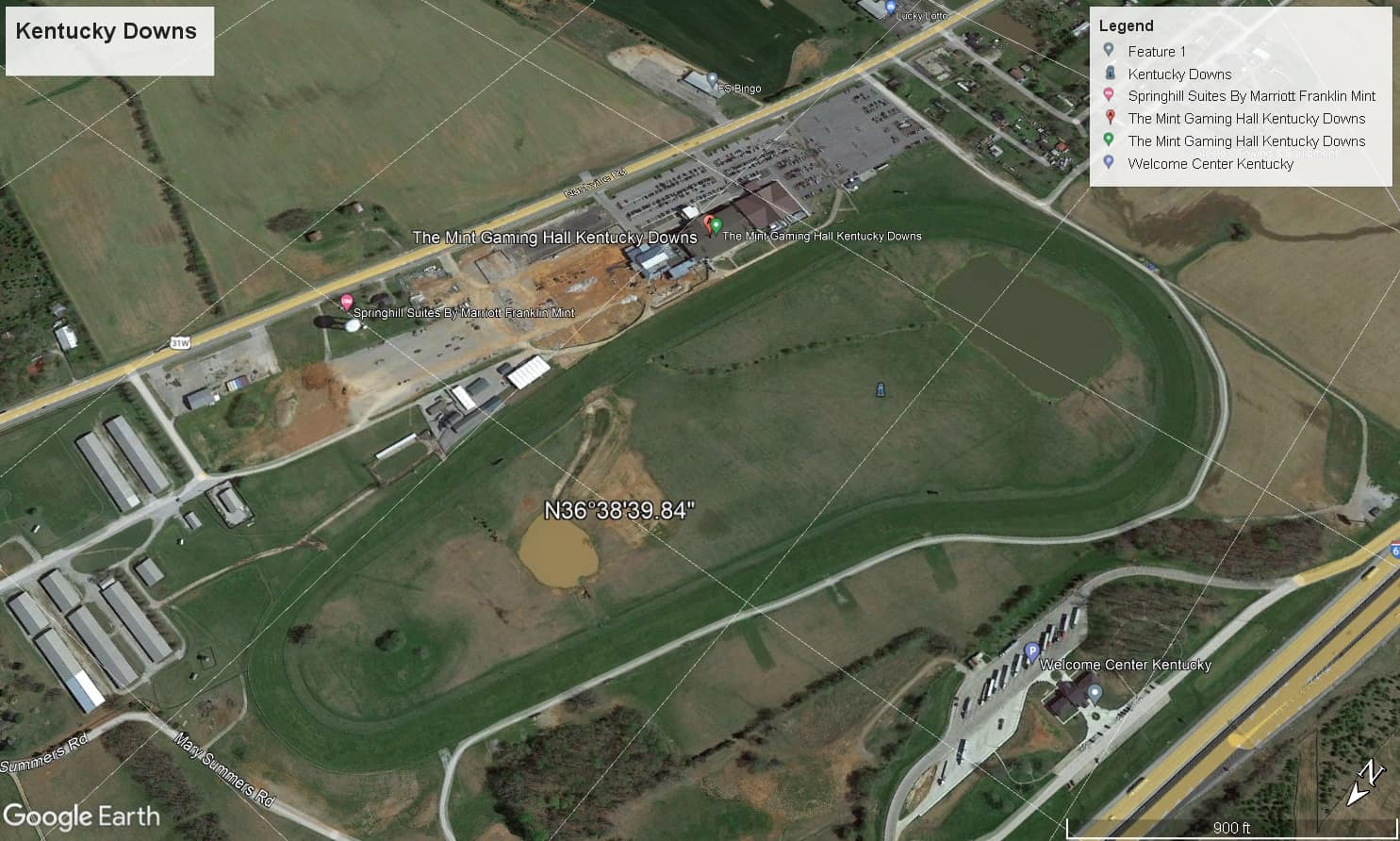 It is located on the border between Kentucky and Tennessee, in Franklin, Kentucky, just off Interstate 65.
It is 35 minutes from Nashville and 20 minutes from Bowling Green.
Admission to the track is free.
No RV or Semi-Truck Parking is allowed. Uber and Lyft services are limited in this area.
The Mint is not responsible for transportation issues to and from The Mint.
Other racetracks are sorted and listed on the page "List of Racetracks". To view the full list, hit the button below. You can also check the horse racing types and breeds to have a lot more in-depth knowledge about horse racing. 
Are you interested in betting now? Why not try our horse racing picks, listen to our podcasts, and have higher chances of winning!
---
You can also check Kentucky Downs results and Kentucky Downs entries using our AmWager platform for FREE!
It is easy to access and fast as 1, 2, 3!
So what are you waiting for?
STOP HORSING AROUND, GET SERIOUS, GET AMWAGER !
Sign Up now for FREE and wager like a PRO with AmWager