Don't forget you can wager on the races with AmWager
Wager on live horse races like a Pro with AmWager.
Simple…We are the best online wagering platform today. Real-time updates, exclusive tools, custom wagering types, player-focused design. Not using AmWager is like playing in the kiddie pool.
Powerful, fast, innovative, secure, yet easy to use! All because we value and listen to our customers.
Los Alamitos Racecourse
Los Alamitos Racecourse is a horse-racing track in Cypress, California, United States. It opened in 1951, at Katella Avenue.
History of Los Alamitos Racecourse
1920 – Frank Vessels, Sr. is the man who founded Los Alamitos Race Course and is also the patriarch of the fabled Vessels family. He began with only $19 going to California from Kentucky in 1920, and after nearly three decades of perseverance, he began building a small company that specialized in making drilling platforms for the oil business. Then after 20 years, he finally had sufficient money to construct a racetrack on a portion of his 435-acre Orange County ranch.
1951 – the first pari-mutuel meeting occurred, and the 11-day affair was pelted by constant rain on the day the track was opened. The damage caused by the rain challenged the perseverance of Frank Sr. along with his wife, Grace, his son Frank Jr., and his son's wife, Millie, again.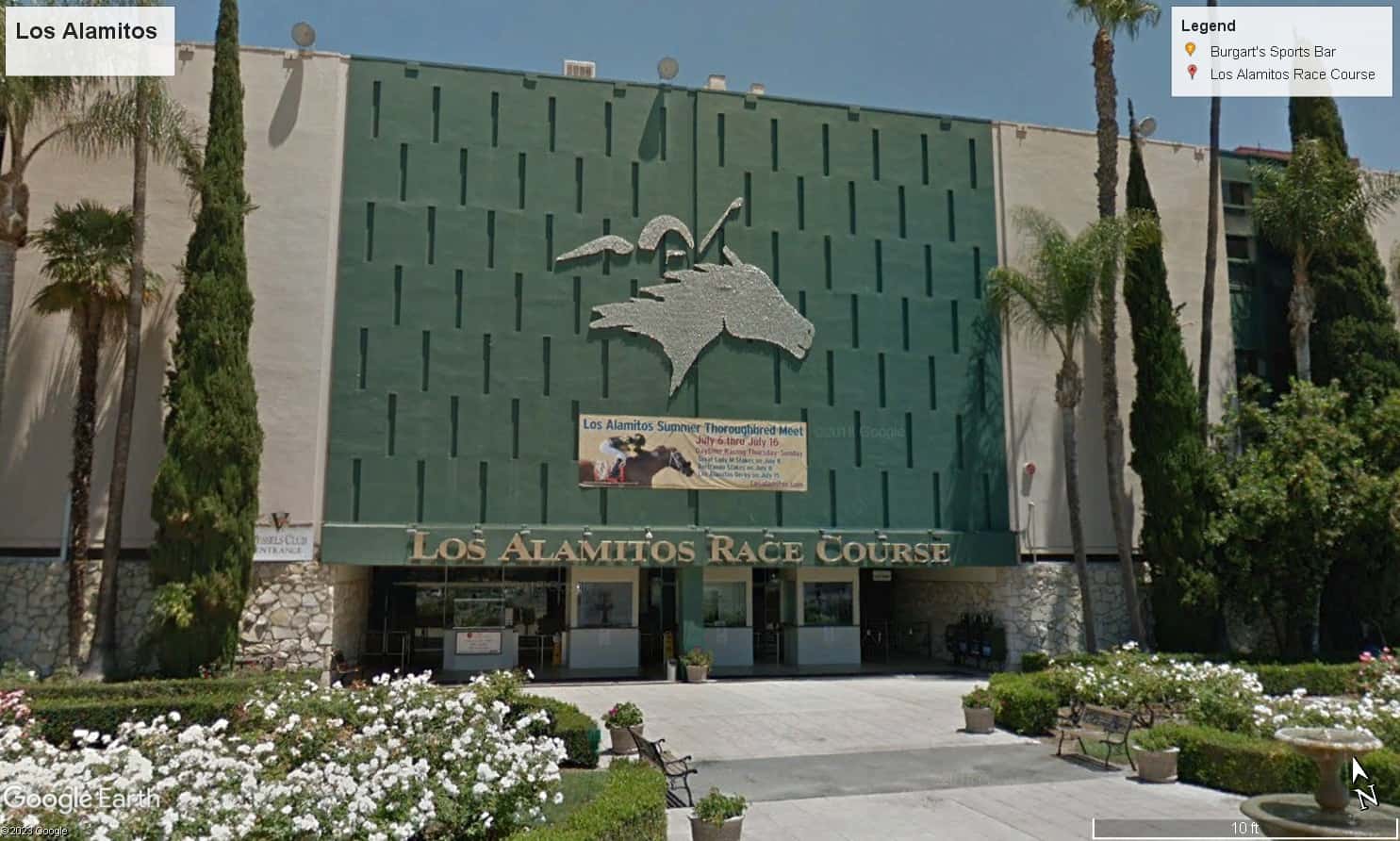 1955 – The first quarter horse superstar, a rugged roan 2-year-old named Go Man Go, came to Los Alamitos. His appearances drew notice from fans and sportswriters who had never heard of Quarter Horse racing or Los Alamitos Race Course. Huge crowds would gather at Los Alamitos on the days Go Man Go would race and chant his name as he drew away to victory after victory.
1990 – The track was owned and operated by a member of the Vessels family for 35 years. However, in the mid-1980s, the track had been passed with different owners; not until 1990 when Ed Allred became the sole owner of Los Alamitos Race Course.
1995 – Under Allred's leadership, he added The Vessels Club, an $8 million Turf Club named in honor of the founding family of the track, which opened on December 1995. The Vessels Club has earned an award for being Southern California's top sports park restaurant.
2013 – The Hollywood Park closed in December 2013, while Los Alamitos gained Thoroughbred racing dates formerly ran in Inglewood, Calif.
2014 – The Los Alamitos track was expanded to 1 mile (1.6 km) and hosted two Thoroughbreds-only meets.
Track Details and Other Facilities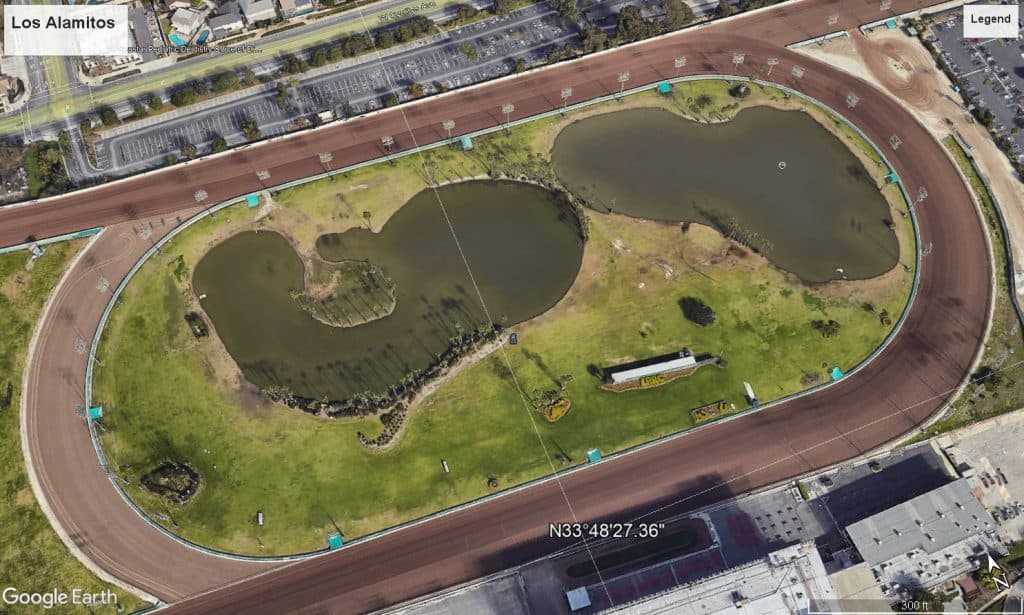 🐎Stable

The barn can stable 1,500 horses.

🐎

First floor & Grandstand

Concession stands are available throughout the grandstands and general property

🐎

Gift Shop

The only shop in the racetrack.
It is located in the Vessels Club.
It is open during live racing days, every Friday to Sunday evenings.

🐎

Vessels Club

It is located on the top level of the Los Alamitos Grandstand and over the course finish line for ultimate viewing. 
Finish Line Room

A private group area within the Vessels Club that can accommodate up to 300 people.
Live music offerings are sometimes available, or guests can use the venue for larger parties and get-togethers.

The Grand View Terrace

It is in the Vessels Club and features a panoramic view of the track.
Each table has a 20-inch flatscreen TV.

Admission

Patrons are allowed free of charge approximately one hour before the night's last post.
Children 17 years old and younger are also allowed to enter for free.
Food and drinks are not allowed upon entry.

Dress Code

Ladies (including children): Appropriate attire is required. Suits, pantsuits, or daytime dresses are preferred. Dress jeans may be acceptable only if worn with a well-tailored sport coat. Tee shirts, shorts, jogging or exercise clothes, or athletic-type shoes are prohibited.
Gentlemen (including children): Appropriate attire is required. Suits, sports coats, and dress shoes are preferred. Dress jeans may be acceptable only if worn with a well-tailored sport coat. Collared golf shirts may be acceptable if cleaned, tucked in, and stylish. Tee shirts, shorts, baseball caps, canvas, or athletic shoes are prohibited.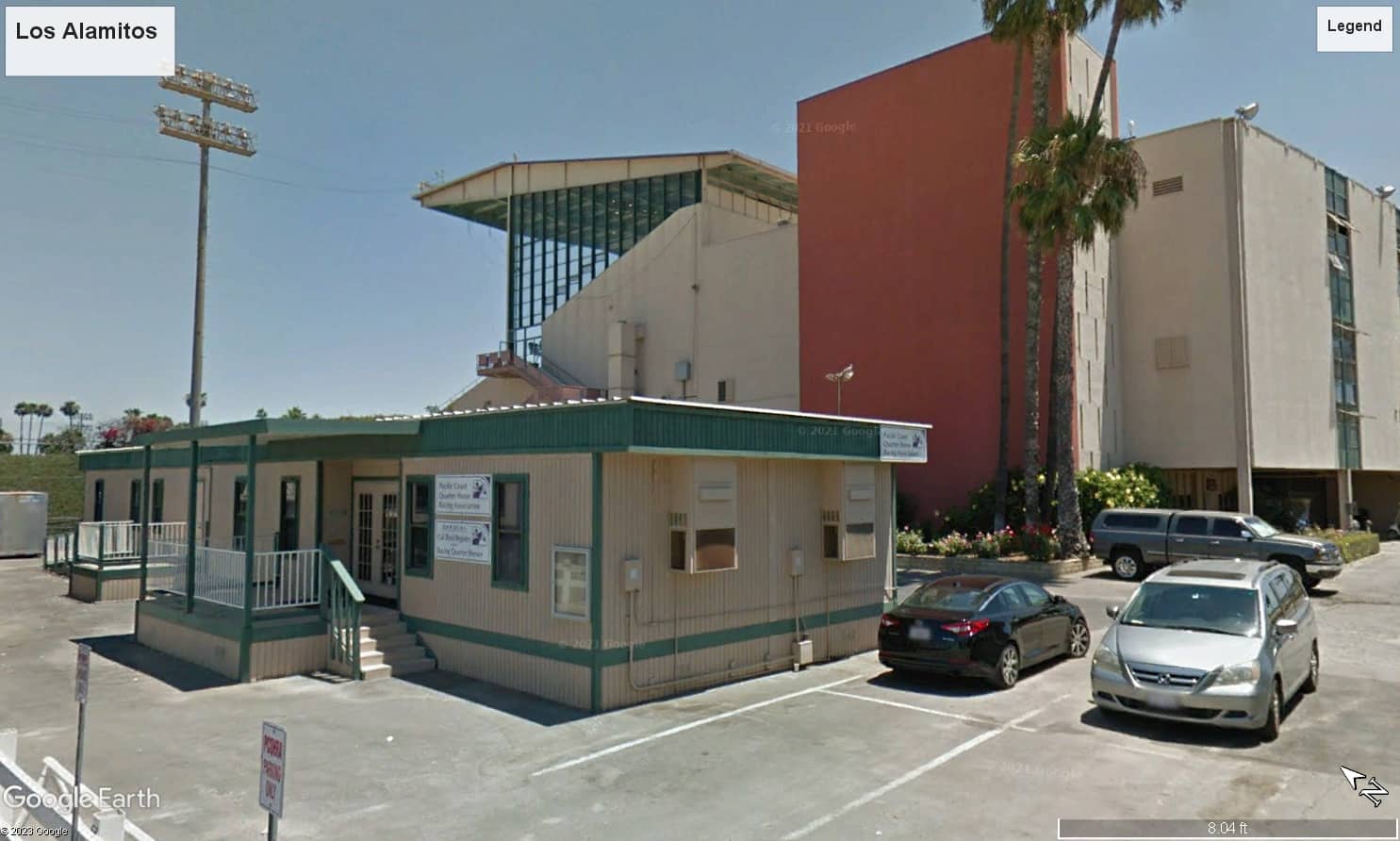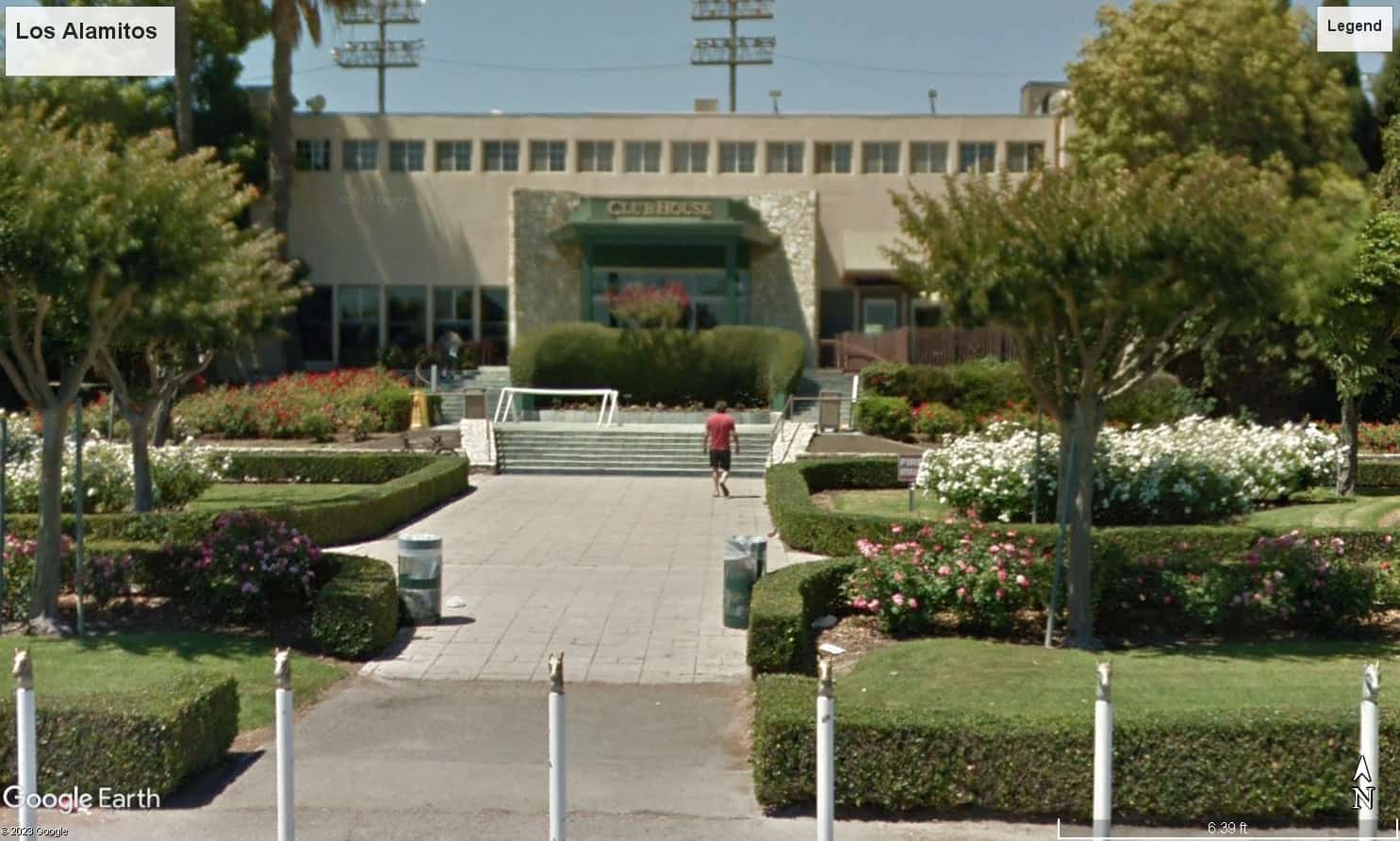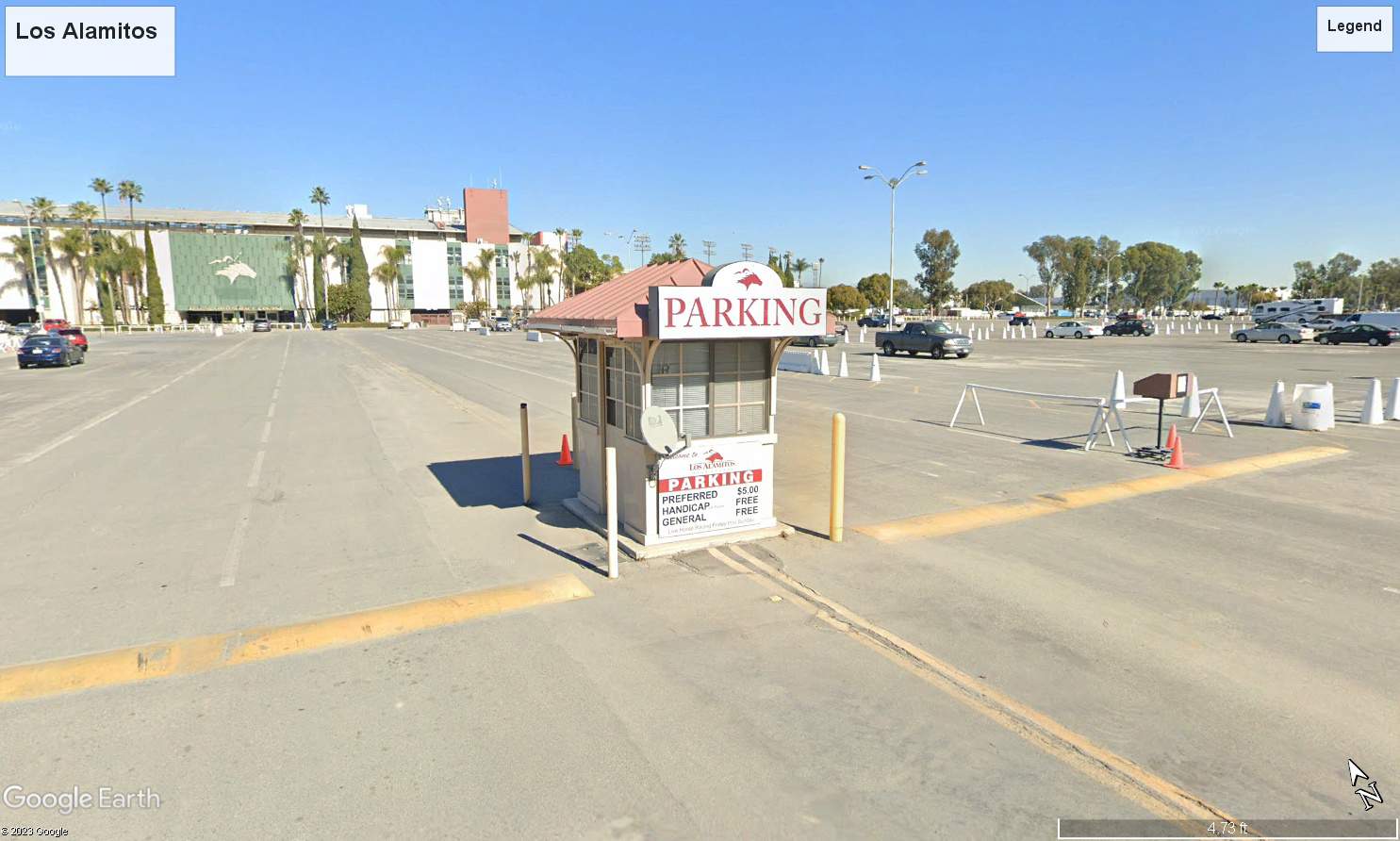 🐎

Parking and Programs

Free general Parking
Preferred Parking $5.00
🐎 

Burgart's

It is named in honor of Los Alamitos Racecourse's legendary track announcer Ed Burgart, who retired at the end of the 2019 racing season
Open Hours

It is open Friday to Saturday (Daytime)
Saturday & Sunday (Nighttime)

It has 60 HDTVs, Pool tables, and TouchTunes Jukebox.
Admission

Admission 10$ and free after last night's race
Free Admission on racing nights after 10:00 pm

Dress Code: Casual
🐎

Schwanie's Grill At The Gap

The restaurant was inaugurated with a ribbon-cutting ceremony in the Fall of 2000 and is named in honor of Blane Schvaneveldt, a training legend at Los Alamitos.
The hallway features colorful photographs of Schvaneveldt's memorable stakes wins with jockeys like Robert "The Master" Adair and Ralph Pauline.
The room also features TVs and self-service wagering machines
It features a patio-style deck where fans can enjoy all the sounds and sights of horse racing in the early morning.
Race Schedule and Major Events & Races
Los Alamitos Race Track Schedule
🐎

General Information

It hosts Quarter Horse and Thoroughbred Racing.
In the summer, from June to July
In the winter are a few weeks in December
In Autumn, every September

Simulcast Schedule
Monday to Thursday at 10:00 am.
Friday to Sunday at 9:30 am.
🐎

Specific Race Dates for 2023

Race Dates QH Meet – December 31, 2022, to December 17, 2023
Race Dates TB Meet – Summer Meet: Los Alamitos (LA County Fair)-June 21 to July 11
Autumn Meet: September 13 to 26
Winter Meet: December 6 to 19
Daily Racing: Racing is held Saturdays and Sundays.
Approximate Live Post Times – Saturday 6:00 pm and Sunday 5:30 pm.
Grade II

🐎Great Lady M. Stakes

🐎Los Alamitos Futurity
Grade III

🐎Los Alamitos Derby
🐎Bayakoa Stakes
Location and Access to the Racecourse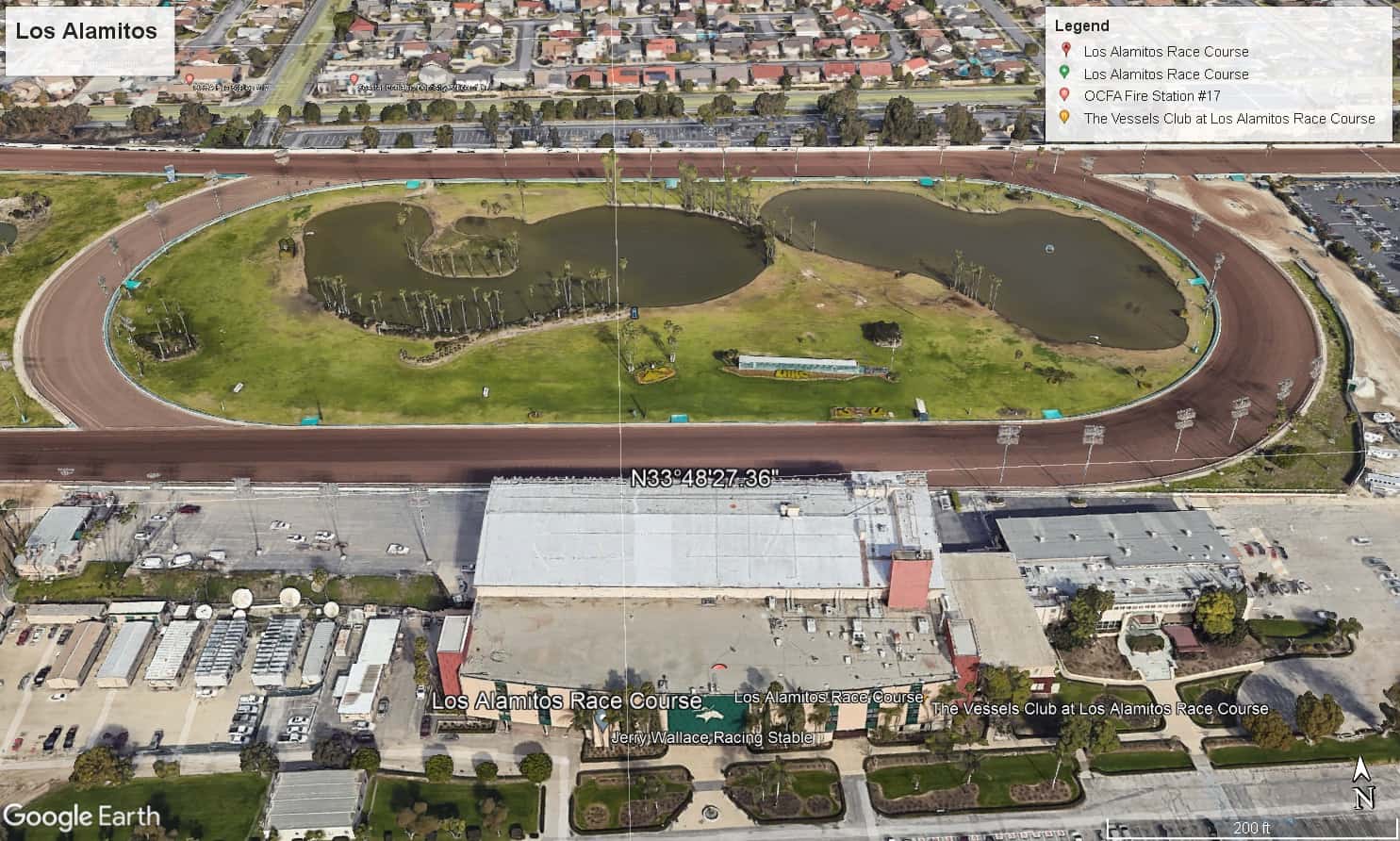 Los Alamitos Racecourse is located on Katella Ave., 2 miles east of the 605 Freeway in Los Alamitos.
It offers wheelchair assistance.
Admission

Grandstand Admission $3.00
$2 admission to everyone 62 or older.
Free for Active Military with ID
Other racetracks are sorted and listed on the page "List of Racetracks". To view the full list, hit the button below. You can also check the horse racing types and breeds to have a lot more in-depth knowledge about horse racing. 
Are you interested in betting now? Why not try our horse racing picks, listen to our podcasts, and have higher chances of winning!
---
You can also check Los Alamitos results and Los Alamitos entries using our AmWager platform for FREE!
It is easy to access and fast as 1, 2, 3!
So what are you waiting for?
STOP HORSING AROUND, GET SERIOUS, GET AMWAGER !
Sign Up now for FREE and wager like a PRO with AmWager