Don't forget you can wager on the races with AmWager
Wager on live horse races like a Pro with AmWager.
Santa Anita Park
Santa Anita Park is a horse-racing track in Arcadia, California, USA. It opened in 1934, at Huntington Drive.
History of Santa Anita Park
Original Santa Anita Park
1907 – Santa Anita Park was originally just a portion of "Rancho Santa Anita", originally owned by former San Gabriel Mission Mayor-Domo, Claudio Lopez, and named after a family member, "Anita Cota". The ranch was passed on to different owners, first obtained by rancher Hugo Reid, a Scotsman, then to the multimillionaire horse breeder and racer Elias Jackson (Lucky) Baldwin. He opened the original Santa Anita Park on Thanksgiving Day, 1907.
1909 –The California State Legislature submitted an anti-racetrack gambling bill known as the Walker–Otis Law, which resulted in a permanent closure of the Baldwin racetrack. On the same year, March 1, Baldwin died.
1912 – Santa Anita race park's grandstand was burned.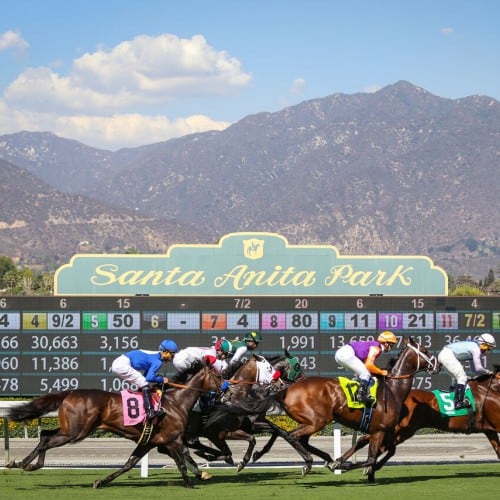 1932 – California would eventually legalize pari-mutuel betting in June 1933. Anita (Baldwin's daughter) immediately applied and received a license in July 1932. She partnered with Joseph M. Smoot, Florida's Hialeah Park track creator, to establish a new track on 207 acres west of the current Santa Anita track. However, after eight months of building, work was halted when Smoot disappeared. Anita Baldwin was left with only a half-built project. Hence, she sold her track project to the Los Angeles Turf Club. Today, Baldwin's Santa Anita racecourse is now the Arcadia County Park. The new Santa Anita Park stood adjacent to the Los Angeles Turf Club, Inc., which organized and purchased part of Baldwin's estate.
1934 – The newly formed Los Angeles Turf Club founded the current Santa Anita Park on Christmas Day (December 25) in 1934, the first officially established racetrack in California.
1935 – The first Santa Anita Handicap was inaugurated in February 1935, nicknamed the Big 'Cap.
1937 – Since the track is near Los Angeles, Santa Anita has traditionally been linked with the film and television industries. The movie A Day at the Races was filmed at the racetrack and featured in A Star Is Born (1937). There are also stars like Bing Crosby, Spencer Tracy, Errol Flynn, Alex Trebek, and MGM mogul Louis B. Mayer, who owned horses raced at the park.
1940 – Seabiscuit won the Santa Anita Handicap even in his last start.
1942 – Racing at Santa Anita Park was suspended due to the Second World War and was utilized as an "assembly center" for Japanese Americans excluded from the West Coast. Over 18,000 people stayed in horse stables for several months, and the militaries built military-style barracks on the Santa Anita race park. 
1945 – After the war, the track was reopened on May 5, 1945. It went through prosperity when Busher became one of racing's great mares, and Johnny, "The Pumper" Longden, continued his rise to the winningest rider in history.
1950 – Santa Anita Park started to present the George Woolf Memorial Jockey Award annually. It is awarded to a rider who displays high standards of personal and professional conduct on and off the racetrack. In the same year, Santa Anita hosted its first millionaire racing, Citation and Noor, who upset "Big Cy" in the 1950 Big 'Cap and again in the San Juan Capistrano. 
1951 –Willie Shoemaker, a young rider, won his first 17 successive Santa Anita riding championships.
1953 – A downhill turf course was founded on the racetrack. It added a remarkable European flair to racing at Santa Anita Park.
1960 – Santa Anita Park was enhanced, expanding the grandstand and adding more seats. 
1969 – Oak Tree Association with no facilities of its own, rented Santa Anita Park for its first autumn meeting and became the operator of the autumn meet at the racetrack. It normally ran from the end of September until early November. 
1979 – "America's Horse" won 11 successive stakes at the track, including two Santa Anita Handicaps, two of his three Oak Tree Invitationals, and the San Juan Capistrano from November 1979 to March 1982. 
1981 & 1984 – John Henry was named Horse of the Year. Santa Anita Park was also the site of equestrian events at the 1984 Olympics.
1988 – Alysheba won the Strub Stakes and the San Bernardino and defeated Ferdinand in the 51st Big 'Cap.
1997 – Meditrust bought the Santa Anita Companies for its real estate investment trust paired corporate share structure. Meditrust also sold the track to Magna Entertainment Corp after the special tax treatment accorded Pair Share REITs was abolished.  
2000 – The racetrack was named on America's "Most Endangered Historic Places" list. 
2006 – Gulfstream Park and Santa Anita cohosted the Sunshine Millions. The racetrack was also listed on the National Register of Historic Places. However, continued to be threatened by developers' plans. Many attempts to ruin the track were aborted even until the year 2011. One of them was when there was a scheme to construct another mall next to Santa Anita Park, but fortunately, it was abandoned.
2007 – Santa Anita Park changed its dirt track with a synthetic surface called Cushion Track to comply with the California mandate. 
2008 – The management canceled eleven (11) racing dates due to a drainage problem with the new material, the cushion track. Hence, in December 2010, they restored the track to an all-natural dirt surface per a special state waiver.
2011 – Stronach Group acquired Santa Anita Park in 2011 until today. It is a Thoroughbred racetrack located in Arcadia, California, United States.
2014 – Santa Anita Park racing started adding more racing cards when the Hollywood Park Racetrack was closed. The track hosted Hollywood Park's old spring dates from late April until June. 
2019 – Santa Anita Park abolished downhill turf sprints after an incident in the 2019 San Simeon Stakes. However, the hillside turf course will still be utilized for distance races. 
2020 – The COVID-19 outbreak caused the races to host without fans until it was suspended two weeks later. It returned on May 15, 2020.
1986 – Lady's Secret won the Distaff on her way to becoming Horse of the Year.
1993 – Arcangues won the Classic in the biggest upset in the race's history.
2003 – Trainer Richard Mandella won a record four races, including the Classic.
2008 – Overseas based runners won five races, including the Classic.
2009 – Zenyatta became the first (and to date only) mare to win the Classic.
2012 – Wise Dan won the mile on his way to a Horse of the Year title.
2013 – Wise Dan goes back-to-back.
2014 – Bayern upsets California Chrome and Shared Belief in the Classic.
2016 – Beholder won the Distaff in a thrilling stretch battle over the undefeated Songbird.
2016 – Arrogate won the Classic in a thriller over the heavy favorite California Chrome.
2019 – Storm the Court upsets the field to win the Juvenile by a neck at 45-1.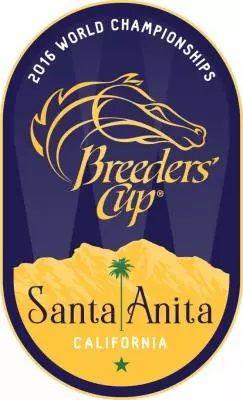 Track Details and Other Facilities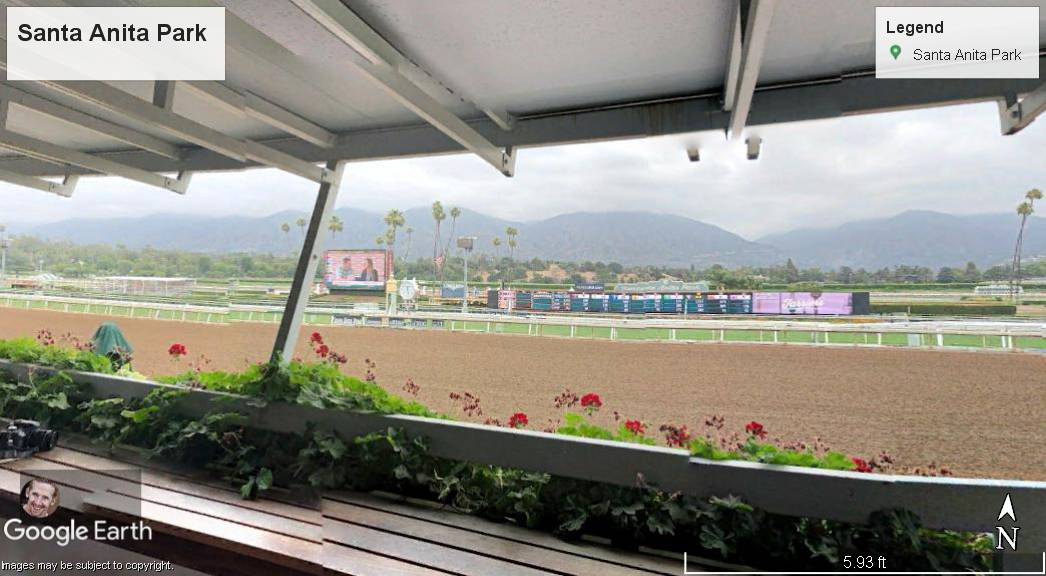 Santa Anita Park Race Track
🐎Main Track


The main track is one mile (1,609 m) of natural

dirt

.

🐎Turf Course

A turf course is inside the main

dirt track

measures 0.9 miles or 1,584 yards (1,448 m).
A Hillside turf course that crosses the dirt and has been utilized mainly to run turf distance races at 1¼ miles, 1½ miles, and about 1¾ miles.
The Backstretch turf chute primarily for turf sprints at distances up to 6½ furlongs.
🐎Grandstand

A 1,100-foot (340 m)-long grandstand can accommodate 26,000 guests. 

🐎Infield

The track 

infield

 area with picnic tables and large trees can accommodate 50,000 or more guests. 

🐎Barn

It has 61 barns that can accommodate more than 2,000 horses and an equine hospital.

🐎Event Venue


Special event spaces at Santa Anita can accommodate up to 10,000 people.

It offers catering, hospitality, and an in-house video system with 2,000 television monitors. 

There are betting windows and self-service terminals available.

Food festival 

626 Night Market

has been operating since 2013. It has more than 250 vendors selling food, merchandise, crafts, and art. 

A stage with live music, an Art Walk, a cosplay contest, and

b-boy

 dance competitions.

Arcadia High School holds its annual graduation ceremony in June and alumni reunion in September and October at the track.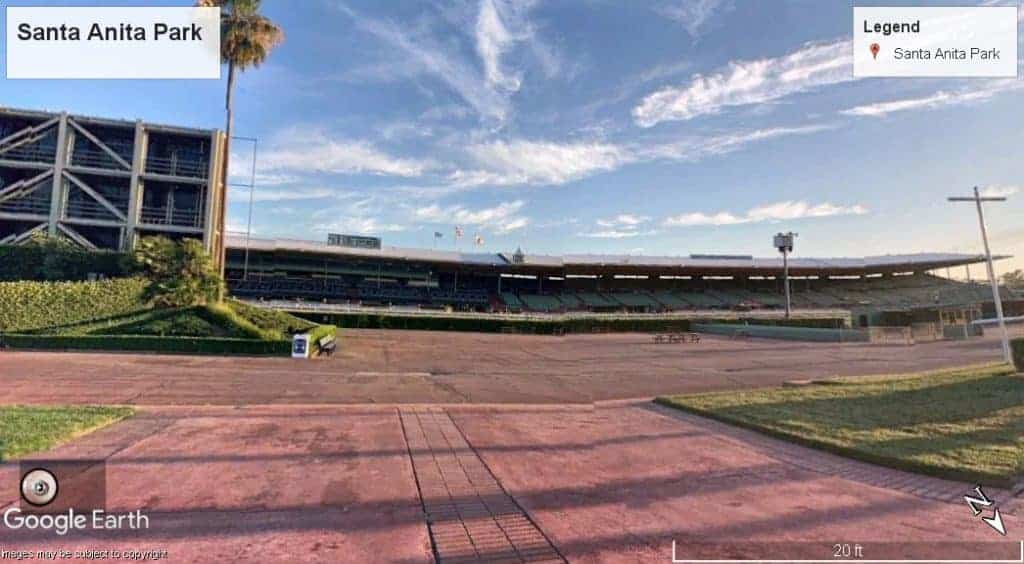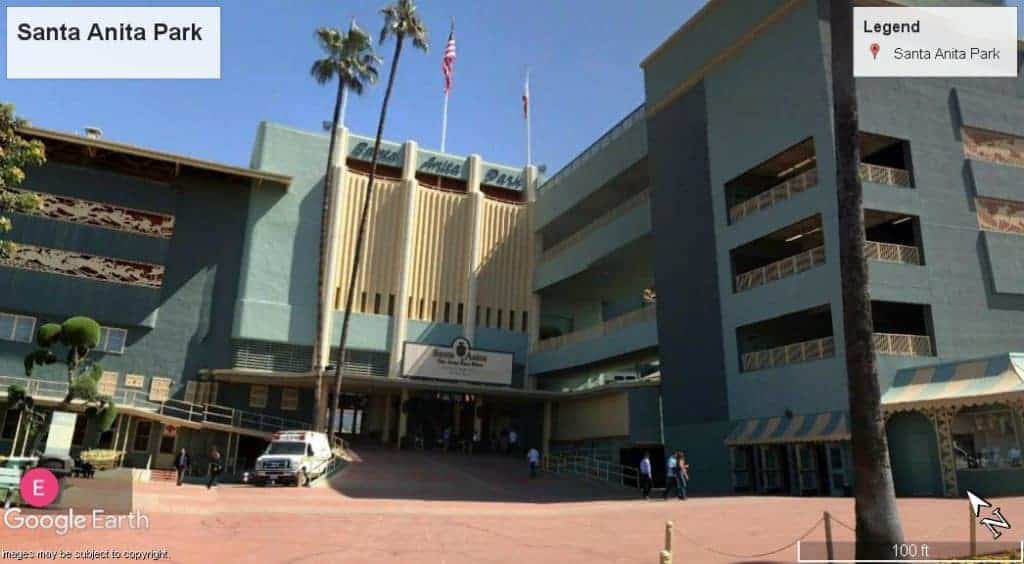 🐎Statues and Burial of Best Horses in the Santa Anita Park

A life-size bronze Seabiscuit in the walking ring at Seabiscuit Court.
A similar bronze of John Henry was constructed near the Seabiscuit statue in December 2009.
Buried near the paddock is Emperor of Norfolk, the best horse Lucky Baldwin ever owned. 
A life-size bronze  Zenyatta was built before the running of the race was renamed in her honor in 2012.
Race Schedule and Major Events & Races​
Santa Anita Park Schedule
🐎Live Racing Schedule

September through June

It offers some prominent horse racing events in the United States during early fall, winter and spring.
Grade I

🐴

American Oaks (2002)

🐴

American Pharoah Stakes (1970)

🐴

Awesome Again Stakes (1982)

🐴

Beholder Mile Stakes (1940)

🐴

Frank E. Kilroe Mile (1960)

🐴

Gamely Stakes (1939)

🐴

Hollywood Gold Cup Stakes (1938)
🐴

La Brea Stakes (1974)

🐴

Malibu Stakes (1952)

🐴

Rodeo Drive Stakes (1977)

🐴

Santa Anita Derby (1935)

🐴

Santa Anita Handicap (1935)

🐴

Santa Anita Sprint Championship (1985)

🐴

Shoemaker Mile Stakes (1938)
Grade II

🐴Arcadia Stakes (1988)
🐴Buena Vista Stakes
🐴Californian Stakes
🐴Chandelier Stakes (1969)
🐴Charles Whittingham Stakes
🐴City of Hope Mile Stakes
🐴Eddie Delahoussaye Stakes
🐴Goldikova Stakes
🐴Joe Hernandez Stakes (2008)
🐴John Henry Turf Championship Stakes
🐴Las Cienegas Stakes
🐴Marathon Stakes
🐴Mathis Brothers Mile
🐴Monrovia Stakes (1968)
🐴Palos Verdes Stakes (1936)
🐴Royal Heroine Stakes
🐴San Antonio Stakes
🐴San Carlos Stakes

🐴San Felipe Stakes

🐴San Gabriel Stakes

🐴San Luis Rey Stakes

🐴San Marcos Stakes

🐴San Pasqual Stakes

🐴San Vicente Stakes

🐴Santa Anita Oaks (1935)

🐴Santa Margarita Stakes (1935)

🐴Santa Maria Stakes

🐴Santa Monica Stakes

🐴Santa Ynez Stakes

🐴Summertime Oaks

🐴Triple Bend Stakes (1952)

🐴Twilight Derby

🐴Zenyatta Stakes (1993)
Location and Access to the Racecourse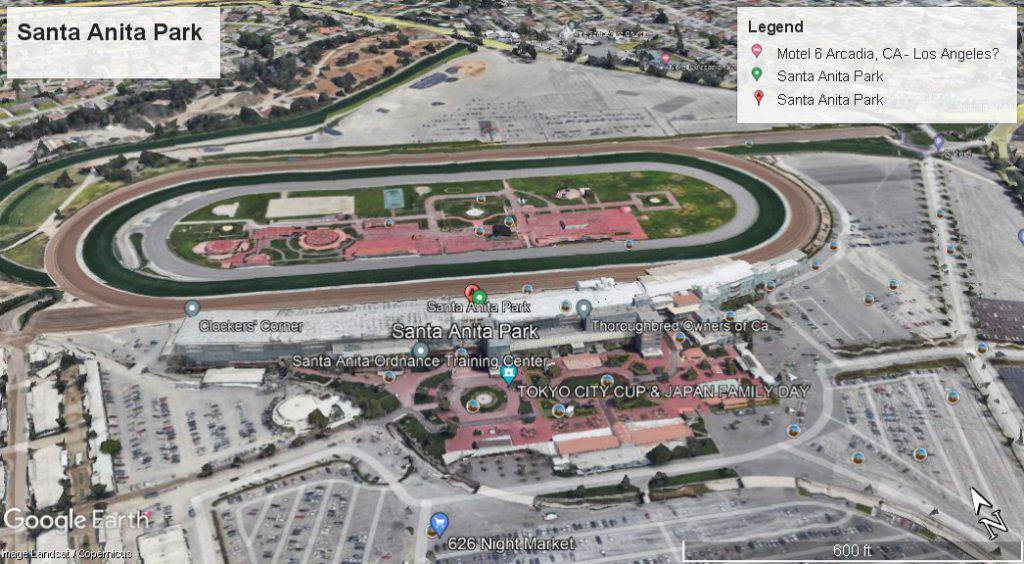 Santa Anita Park is a 

Thoroughbred 

racetrack

 in 

Arcadia, California

, United States. 

It is approximately 14 miles northeast of Los Angeles.

Gate 8 (Horsemen Entrance)

The patron entrance off Baldwin Avenue 

Entrance for South Admission Gate, Horsemen Entrance, and Executive Offices.

General parking and Handicapped parking are available.

Gate 5 (East Entrance)

The patron entrance off of Huntington Dr. 

Entrance for East & Clubhouse Admission Gates.

General, Valet, and Handicapped parking are available.
Gate 3 

The patron entrance off of Huntington Dr.

Entrance for East & Clubhouse Admission Gates.

General, Valet, and Handicapped parking are available.

Gate 6 

The patron entrance off of Colorado Pl. 

Entrance to the Infield Admission Gate.

General parking and Handicapped parking are available.
Other racetracks are sorted and listed on the page "List of Racetracks". To view the full list, hit the button below. You can also check the horse racing types and breeds to have a lot more in-depth knowledge about horse racing. 
Are you interested in betting now? Why not try our free Saratoga horse racing picks, listen to our podcasts, and have higher chances of winning!
---
You can also check Santa Anita Park results and Santa Anita Park entries using our AmWager platform for FREE!
It is easy to access and fast as 1, 2, 3!
So what are you waiting for?
STOP HORSING AROUND, GET SERIOUS, GET AMWAGER !
Sign Up now for FREE and wager like a PRO with AmWager