Don't forget you can wager on the races with AmWager
Wager on live horse races like a Pro with AmWager.
Simple…We are the best online wagering platform today. Real-time updates, exclusive tools, custom wagering types, player-focused design. Not using AmWager is like playing in the kiddie pool.
Powerful, fast, innovative, secure, yet easy to use! All because we value and listen to our customers.
Belmont Park
Belmont Park is a horse racing track in Elmont, New York, United States. It opened in 1905, at the 2150 Hempstead Turnpike.
1905 –  August Belmont Jr., William Collins Whitney, and the other investors founded the original Belmont race track, which opened on May 4, 1905.
1962 – The last race at the old Belmont Park was held in October 1962. 
1963 – The old structure was demolished. 
1964 to 1968 – The new grandstand and the inner turf course were constructed. During those times, the Belmont race meetings were moved to Aqueduct Racetrack in South Ozone Park, Queens.
1968 – The new and the largest in thoroughbred racing, the Belmont Park grandstand was opened on May 20, 1968.
1982-1986 – Belmont Stakes' achievement is recognized by the "Woody's Corner" display in the first-floor clubhouse lobby, commemorating the five consecutive Belmont Stakes winners trained by Woody Stephens from 1982 to 1986.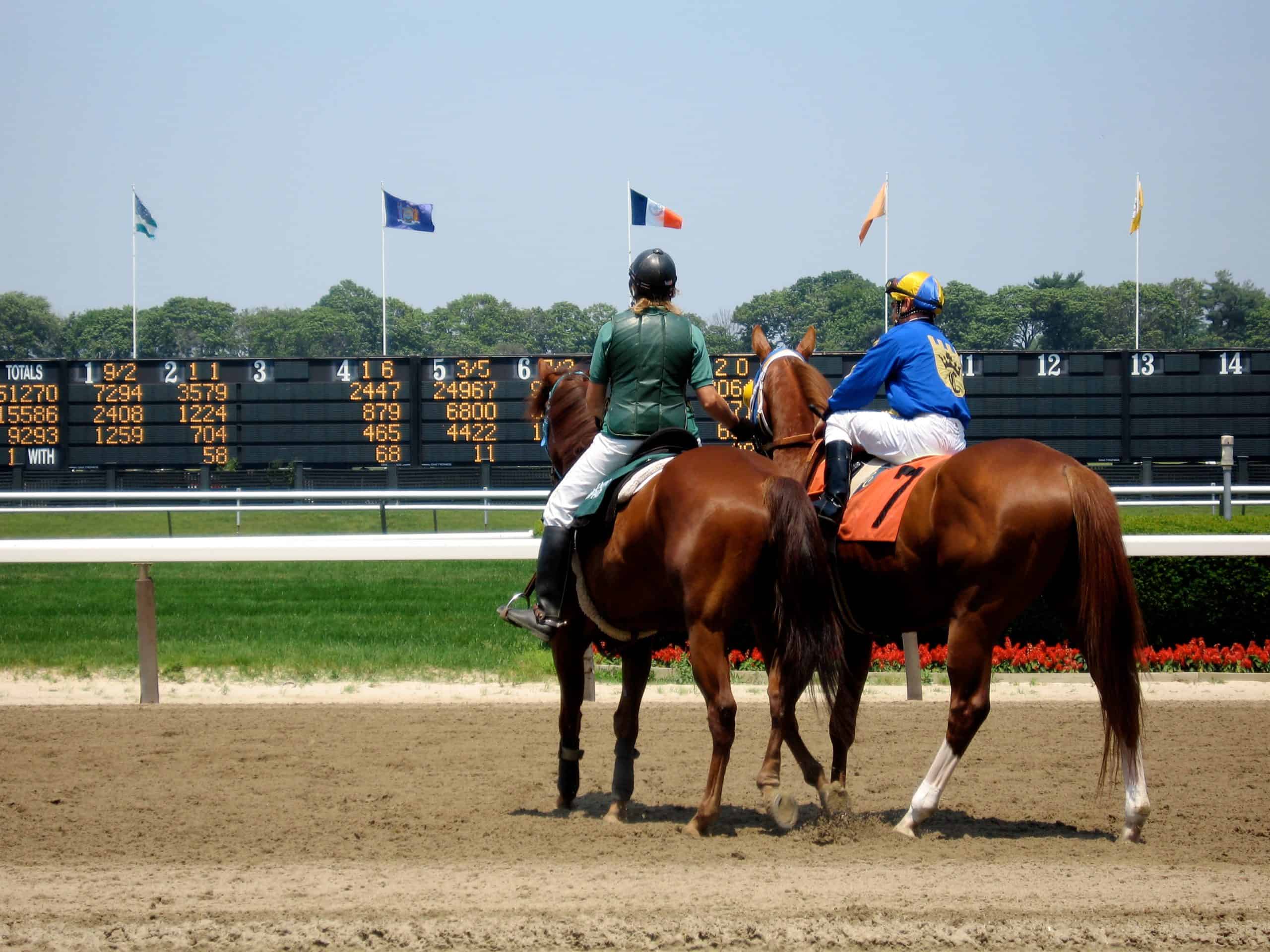 1997 – NYRA and local officials founded the Long Island Belmont Stakes Festival. It features parades, food fests, and other activities to endorse the big race.
2009 –They added lights to the training track to ensure safety measures.
2015 – American Pharoah won the Belmont Stakes on June 6, 2015, and became the first Triple Crown winner in 37 years.
2021 – Woodward Stakes and Waya Stakes were moved to Belmont, while the Jockey Club Gold Cup and the Flower Bowl Stakes were moved to Saratoga
Belmont Park as "The Championship Track"
It is also sometimes called "The Championship Track" as almost all major champion in horse racing since the early 20th century was run on the racecourse. It even includes all of the Triple Crown winners.
Track Details and other Facilities​
Track Details 
Main

dirt track

with a nickname, "the Big Sandy," because of its dimension (1

1

⁄

2

miles (2.4 km). It is also considered the longest dirt

thoroughbred

racetrack in North America. It also has a deep and tiring surface. 
Widener

Turf Course

is inside the main

dirt track

. It is named after the Widener family, which has a long and prestigious history in American horse racing. It is 1

5

⁄

16

miles (2.1 km) plus 27 feet (8.2 m).
The inner

Turf Course

is inside the widener turf course with a circumference of 1

3

⁄

16

miles (1.9 km) plus 103 feet (31 m).
The training track is 1 mile (1.6 km) in circumference and adjacent to the east end of the main track.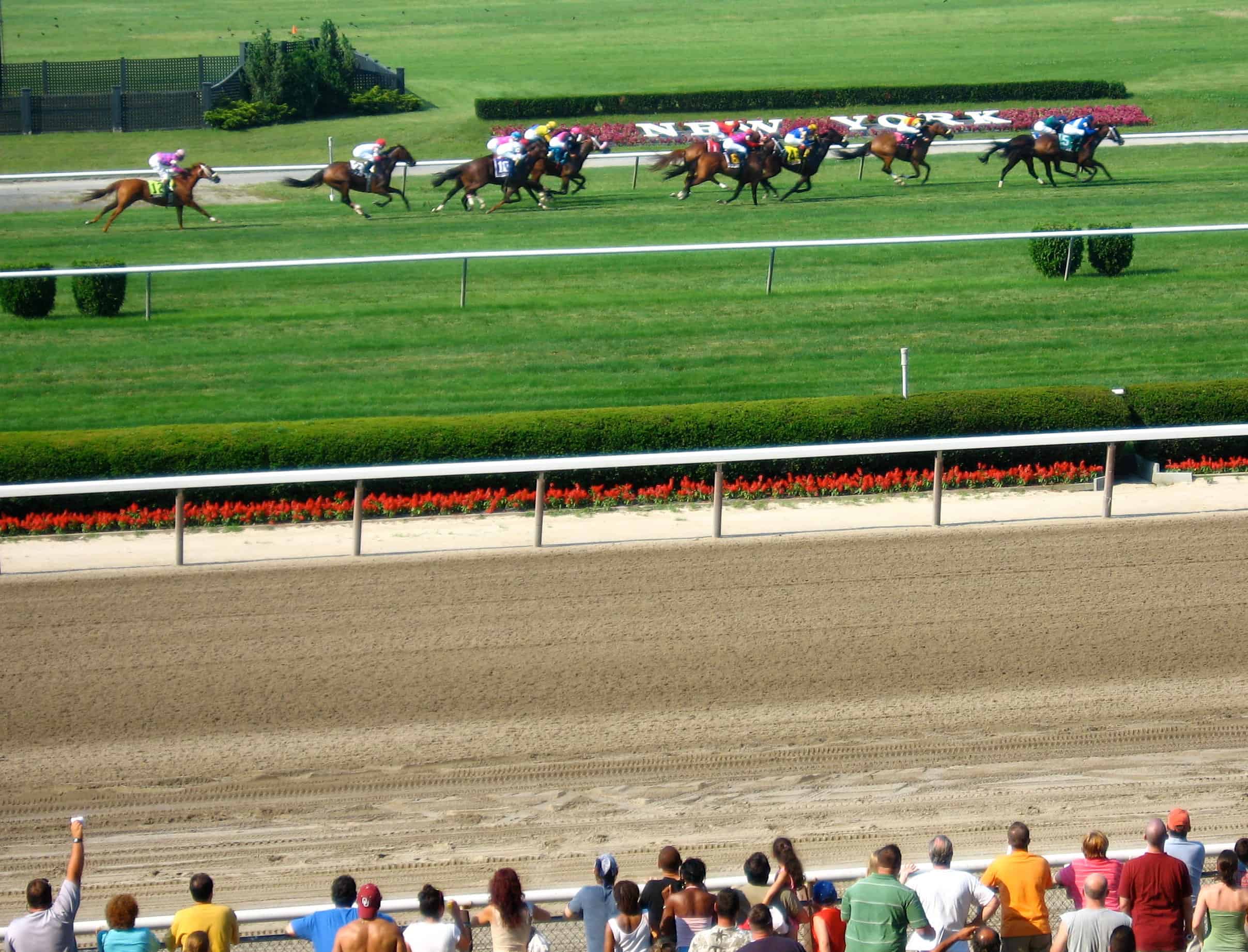 Other Facilities
Four stone pillars on Hempstead Turnpike

a gift from the mayor and park commissioners of Charleston, South Carolina.

It is standing at the clubhouse entrance.

Grandstand

can accommodate more than 100,000, plus the backyard with more than 10,000 capacity. 

It has almost 33,000 seats.

The "Woody's Corner"

It is displayed in the first-floor clubhouse lobby.

It commemorates the five consecutive Belmont Stakes (1982-1986) winners trained by Woody Stephens.

The

paddock

area 
Major Events and Schedule
Major Events
Spring-summer meeting

Commenced on Thursday or Friday of the week before the Kentucky Derby in April. 
Lasts through the first or second Sunday in July, depending on the start of the following Saratoga meet.

Fall Meeting

Follows the Saratoga Season every Thursday or Friday after Labor Day and ends on either the last Sunday in October or the first Sunday in November. It depends on the dates of the Breeders' Cup.

The autumn installment 

Known as the Fall Championship meet because several eventual Eclipse Award title winners have won in some of the meeting's races, like the Jockey Club Gold Cup. 

Belmont Stakes

Named after sportsman August Belmont Sr., who assisted in funding the race. Other authors also say it was named in honor of his son, August Belmont Jr. He is a key member of the Westchester Racing Association, which founded the racecourse.
Inaugurated in 1905 and running until today, except when gambling was banned in New York State (1911–1912 ), and the race was held at Aqueduct while the grandstands at Belmont Park were reconstructed (1963–1967).
Grade I
🐴Acorn Stakes

🐴Belmont Derby

🐴Belmont Oaks

🐴Belmont Stakes

🐴Champagne Stakes

🐴Frizette Stakes

🐴Jaipur Invitational Stakes

🐴Joe Hirsch Turf Classic

🐴Just a Game Stakes

🐴Man o' War Stakes

🐴Manhattan Stakes

🐴Ogden Phipps Stakes

🐴Metropolitan Handicap

🐴New York Stakes

🐴Vosburgh Stakes

🐴Woodward Stakes

🐴Woody Stephens Stakes
Grade II
🐴Bed O' Roses Invitational Stakes

🐴Beldame Stakes

🐴Belmont Gold Cup Invitational Stakes

🐴Brooklyn Invitational Stakes

🐴Gallant Bloom Handicap

🐴Hill Prince Stakes

🐴John A. Nerud Stakes

🐴Kelso Handicap

🐴Knickerbocker Stakes

🐴Miss Grillo Stakes

🐴Mother Goose Stakes

🐴Ruffian Handicap

🐴Sands Point Stakes

🐴Sheepshead Bay Stakes

🐴Suburban Stakes

🐴True North Stakes

🐴Wonder Again Stakes
Location and Access to the Racecourse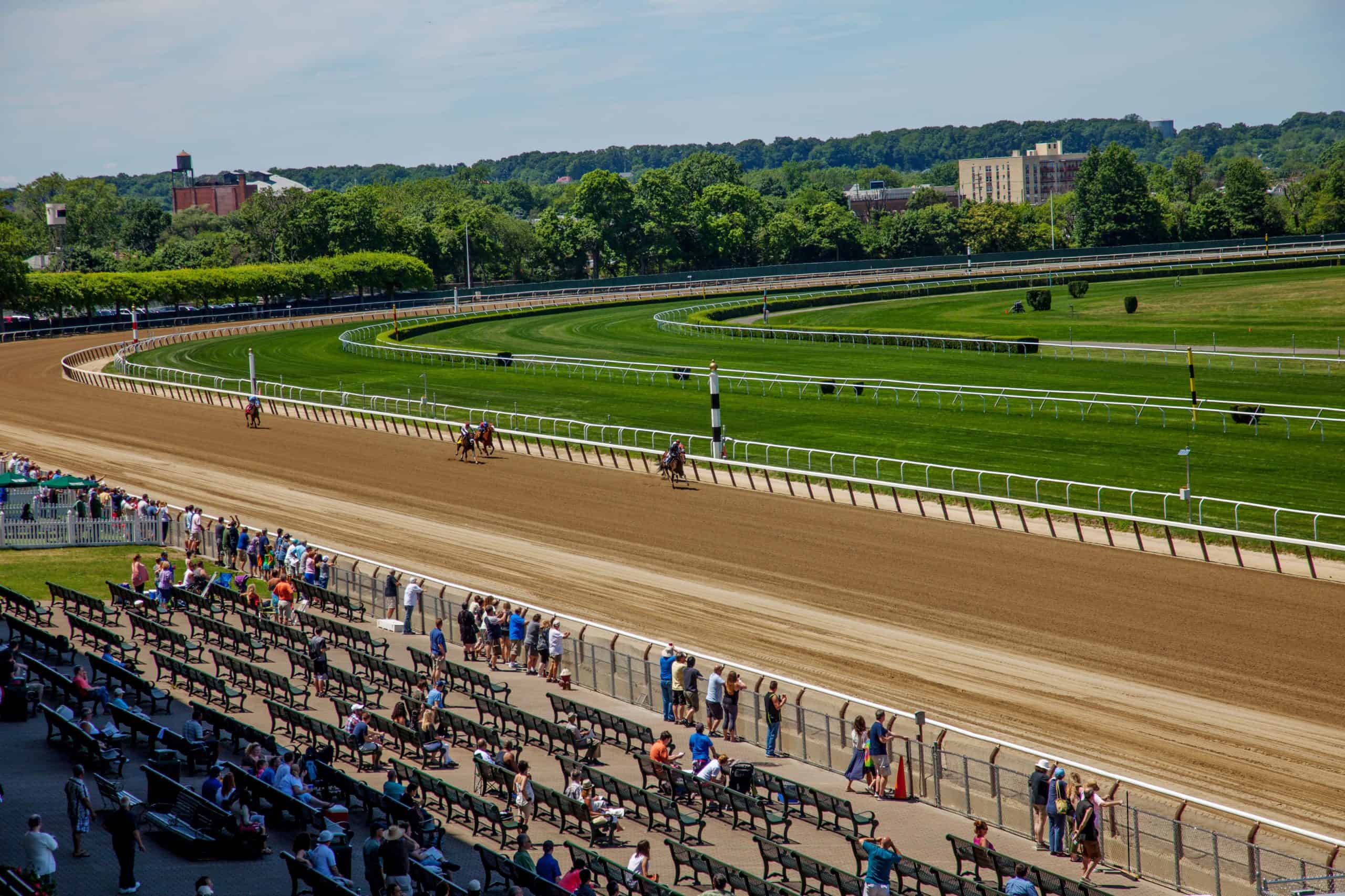 It is located on the western edge of the Nassau County region, the Hempstead Plains. It is a few miles east on the same plains. It has direct on- and off-ramps to the Cross Island Parkway, which runs north-south and is just to the west of the park. Belmont Park's physical address is 2150 Hempstead Turnpike, Elmont, NY, 11003, United States.
Are you interested in betting now? Why not try our horse racing betting tips, listen to our podcasts, and have higher chances of winning!
---
You can also check Belmont Park entries and  Belmont Park results using our AmWager platform for FREE!
It is easy to access and fast as 1, 2, 3!
So what are you waiting for?
STOP HORSING AROUND, GET SERIOUS, GET AMWAGER !
Sign Up now for FREE and wager like a PRO with AmWager