Don't forget you can wager on the races with AmWager
Wager on live horse races like a Pro with AmWager.
Simple…We are the best online wagering platform today. Real-time updates, exclusive tools, custom wagering types, player-focused design. Not using AmWager is like playing in the kiddie pool.
Powerful, fast, innovative, secure, yet easy to use! All because we value and listen to our customers.
Laurel Park
Laurel Park is a horse-racing track in Laurel, Maryland, United States. It opened in 1911, at Laurel Race Track Rd.
History of Laurel Park Race Track
1911 – It was opened on October 2, 1911, under the management of the Laurel Four County Fair. 
1914 – Philip J. Dwyer and James Butler purchased the track and appointed Matt Winn as the general manager. Winn is acknowledged as the man who introduced the Kentucky Derby on the racing map.
1918 – The Army Engineers utilized the field as a training camp. 
1946 – A fire broke out in the stables and fortunately saved 60 horses.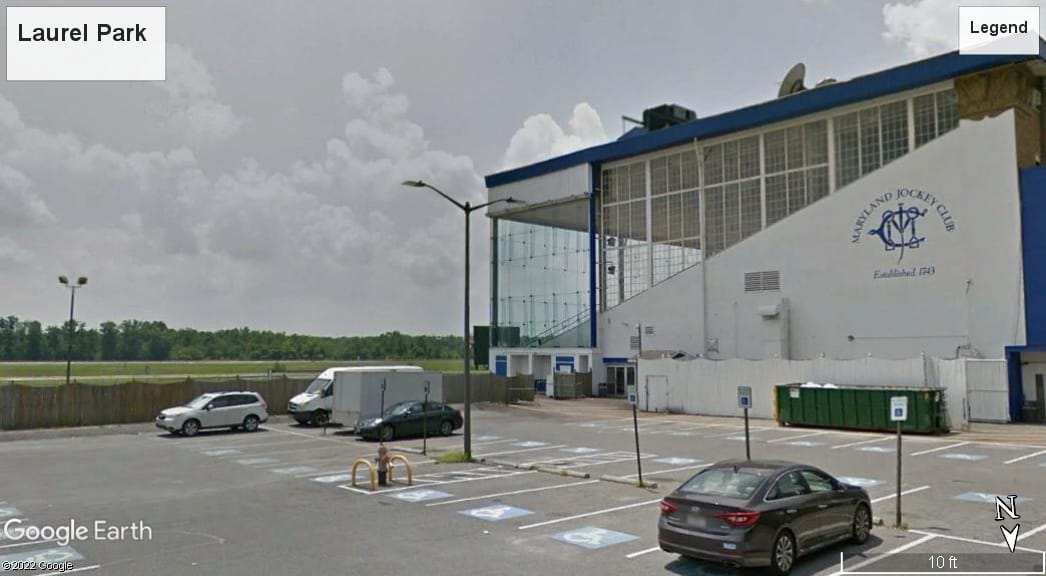 1947 – The Maryland Jockey Club, owned by Timonium and Pimlico, purchased Laurel Park from the Butler estate to shift the Pimlico meeting to Laurel. However, Maryland General Assembly rejected the idea. Hence, the track was sold in 1950 to Morris Schapiro, who appointed his youngest son, John D. Schapiro as the new track president.
1950 – Under the Schapiro era, they renamed Laurel Park to Laurel Race Course, and the Washington, D.C. International was introduced at 1 1⁄2 miles on the turf. 
1953 – The track also opened a new clubhouse and turf club.
1954 – Another stable fire occurred and only saved 14 horses. 
1959 – Laurel Park race track extended its turf course from seven furlongs to one mile and the main track from one mile to one mile and one-eighth to prepare for the International race.
1964 – The management also remodeled the grandstand and the turf. However, another fire broke out and killed 34 horses. 
1966 – Laurel again renovated its clubhouse and grandstand to host winter racing in 1966.
1982 – The track installed an air conditioning system in the grandstand and clubhouse when Laurel Park was granted summer racing dates in 1982.
1984 – The 34-year Schapiro era ended when governor Harry Hughes's selection purchased it for Economic Development secretary Frank J. De Francis and his partners, Robert and John "Tommy" Manfuso.
1985 –  The innovative Laurel project was created and introduced by the Sports Palace. It is a facility innovation that creates an environment of the combined ambiance of a plush casino and state-of-the-art technology. It featured computerized handicapping and a video racing library. 
1986 – Another refurbishment to the racetrack, renovating the first floor of the clubhouse. The club bar and concession stands were improved with black marble, brass, and neon accents. It also enhanced the three dining rooms, the Silks Room, the Ruffian Room, and the Sky Suite Club. 
1987 – The Laurel Park Race track underwent enhancement and modernized the second floor of the clubhouse. It added two new cinema theaters on the clubhouse's second level and the other on the grandstand mezzanine.
1988 – Inter-track wagering commenced at Laurel in early 1988.
1989 – Frank DeFrancis died in August, so his son Joe DeFrancis served as president of Laurel and Pimlico.
1994 – During Joe DeFrancis's management, the track's name returned to its original name, "Laurel Park," and underwent another renovation project. It added Public Relations under the direction of Karin De Francis.
1997 – The racetrack had major enhancements in its main entrance, grandstand interior, and backstretch barns. 
1998 – The Laurel Park race track rebuilt the nine-furlong racing strip.
2004 – Another massive refurbishment occurred, so they closed the backstretch and racing surfaces at Laurel Park from mid-June 2004 to early January 2005 to widen both racing surfaces.
2009 – Despite the major improvements, Laurel Park racetrack went bankrupt in 2009. Hence, it was bought by the Stronach Group, the track's current owner, until its current physical appearance.
2010 – Penn National Gaming and MI Developments started joint ownership of the Maryland Jockey Club for the operation of Laurel Park. 
2011 – The Stronach Group purchased Penn National's minority ownership of the Maryland Jockey Club in June. In May, Frank Stronach surrendered the management of MI Development in exchange for Magna's former gaming assets, bestowing him control over Laurel Park. 
2013 – After failing to establish slot machine gambling, Laurel Park owners (Stronach Group) publicized their plans to utilize the Maryland Racetrack Facility Redevelopment Account. They planned to use it to finance year-round racing, facility enhancements, and a tunnel under the adjacent B&O railroad tracks, connecting to Laurel Park Station on the Howard County portion of the Racetrack property.
2018 – The track started using a GPS-based timing system. 
2019 – Part of the agreement between The Stronach Group and the city of Baltimore is the Stronach Group would offer both Pimlico and Laurel Park to newly established government entities that would supervise the properties, with Stronach licensed to host the race meets. Laurel's grandstand was demolished and replaced with a new one, with new dirt, synthetic, and grass surfaces for racing. They also installed new housing for backstretch workers and new barns. 
2021 – Laurel's spring racing dates were shifted to Pimlico Race Course because of Laurel's main track surface issues.
Track Details and Other Facilities
Race Schedule and Major Events & Races
Laurel Park Race Schedule
🐎Live Racing Schedule

General: Thurdays, Fridays, Saturdays, & Sundays

December: Fridays, Saturdays, & Sundays
Pimlico—Laurel Graded Races
Grade III

🐴Allaire duPont Distaff Stakes

 

🐴Baltimore/Washington International Turf Cup-G3
🐴Barbara Fritchie Stakes
🐴Chick Lang Stakes
🐴Frank J. De Francis Memorial Dash
🐴Gallorette Stakes
🐴General George Stakes
🐴Maryland Sprint Stakes

 

🐴Miss Preakness Stakes

 

🐴Pimlico Special Stakes

 
🐴Laurel Futurity (1921) Autumn

🐴Jennings Handicap (1923) Winter

🐴Selima Stakes (1926) Autumn

🐴Nellie Morse Stakes (1941) Winter

🐴Japan Turf Cup Stakes (1952) Autumn

🐴Laurel Dash Stakes (1988) Autumn

🐴John B. Campbell Handicap (1954) Winter

🐴Native Dancer Stakes (1966) Winter

🐴Conniver Stakes (1969) Spring

🐴All Brandy Stakes (1970) Autumn

🐴Geisha Stakes (1973) Winter

🐴Anne Arundel County Stakes (1974) Autumn

🐴What A Summer Stakes (1978) Winter

🐴Twixt Stakes (1978) Autumn

🐴Caesar's Wish Stakes (1978) Spring

🐴Miracle Wood Stakes (1995) Winter
🐴Find Stakes (1978) Autumn

🐴Federico Tesio Stakes (1981) Spring

🐴Pearl Necklace Stakes (1981) Summer

🐴All Along Stakes (1981) Autumn

🐴Maryland Juvenile Championship (1982) Autumn

🐴Maryland Racing Media Stakes (1982) Winter

🐴Mister Diz Stakes (1983) Summer

🐴Jameela Stakes (1983) Summer

🐴Dahlia Stakes at Laurel Park (1985) Spring

🐴Deputed Testamony Stakes (1986) Spring

🐴Safely Kept Stakes (1986) Autumn

🐴Maryland Juvenile Filly Championship (1986) Autumn

🐴Harrison E. Johnson Memorial Stakes (1986) Winter

🐴Marshua Stakes (1987) Winter

🐴Primonetta Stakes (1988) Spring

🐴Private Terms Stakes (1990) Spring

🐴Fire Plug Stakes (1993) Winter

🐴Wide Country Stakes (1994) Winter

🐴Commonwealth Oaks (2004) Summer
Renamed events (last running/current name) ​
🐴Broad Brush (2013 – Richard W. Small)

🐴Caesar's Wish (2017 – Beyond The Wire)

🐴Columbia (1995 – Safely Kept)

🐴Commonwealth Turf Cup (2016 – Baltimore/Washington International Turf Cup)

🐴Hirsch Jacobs (2009 – Chick Lang)

🐴Lady Baltimore (2016 – All Along)

🐴Laurel Turf Cup (2018 – Japan Turf Cup)

🐴Maryland Breeders' Cup Handicap (2005 – Maryland Sprint)
🐴Marylander (2016 – Heft)
🐴Old Mutual Turf Sprint (2008 – Jim McKay Turf Sprint)
🐴Pimlico Distaff Breeders' Cup (2005 – Allaire duPont Distaff)
🐴Pimlico Futurity (1966 – Laurel Futurity)
🐴Pimlico Oaks (1951 – Black-Eyed Susan)
🐴Queen Isabella (1993 – Nellie Morse)
🐴Woodlawn Stakes (2009 – James W. Murphy)
Location and Access to the Racecourse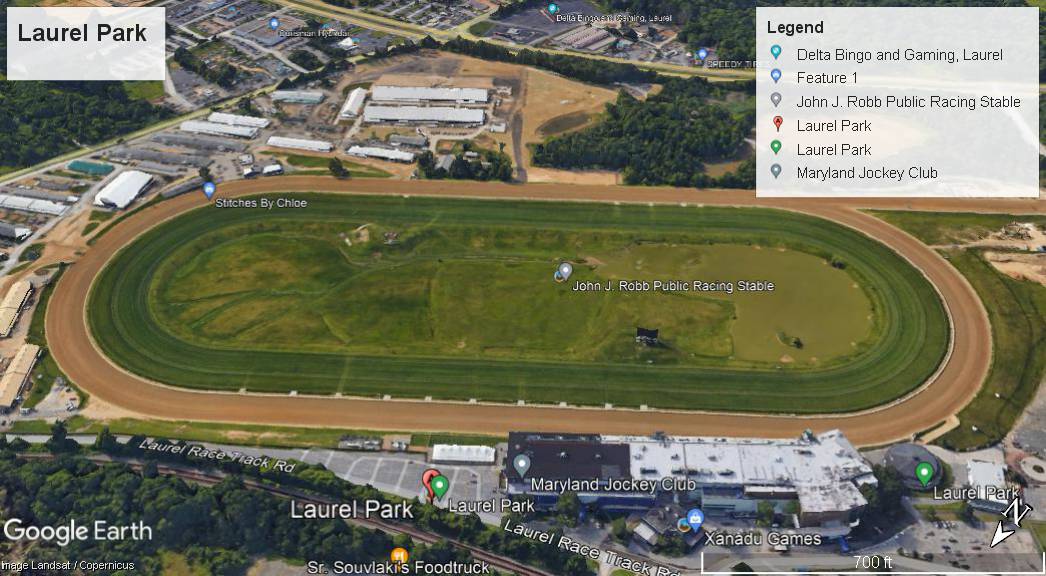 Laurel Park race track is located at

RT 198 & Racetrack Road, Laurel, MD 20725.




It is approximately 14 miles from Baltimore Washington International Thurgood Marshall Airport (BWI)

Train service is available for laurel park from Baltimore and Washington D.C. 

It can also be

accessed via 

MARC Train

 at the 

Laurel Race Track station

and 

RTA

 Buses 409 and 502.

It is free for all 12 years old and under but must be accompanied by an adult.
Other racetracks are sorted and listed on the page "List of Racetracks". To view the full list, hit the button below. You can also check the horse racing types and breeds to have a lot more in-depth knowledge about horse racing. 
Are you interested in betting now? Why not try our Laurel Park horse racing picks, listen to our podcasts, and have higher chances of winning!
---
You can also check Laurel Park race entries and Laurel Park horse racing results using our AmWager platform for FREE!
It is easy to access and fast as 1, 2, 3!
So what are you waiting for?
STOP HORSING AROUND, GET SERIOUS, GET AMWAGER !
Sign Up now for FREE and wager like a PRO with AmWager