Don't forget you can wager on the races with AmWager
Wager on live horse races like a Pro with AmWager.
Simple…We are the best online wagering platform today. Real-time updates, exclusive tools, custom wagering types, player-focused design. Not using AmWager is like playing in the kiddie pool.
Powerful, fast, innovative, secure, yet easy to use! All because we value and listen to our customers.
Tampa Bay Downs
Tampa Bay Downs is a horse-racing track in Tampa, Florida, United States. It opened in 1926, at Race Track Rd.
History of Tampa Bay Downs
1926 – Tampa Bay Downs, also known as Sunshine Park and Florida Downs and Turf Club, first opened on February 18, 1926. The founding operation was headed by Ohio Investor Harvey Myers and Kentucky Colonel Matt J. Winn. 
1927 – After the inaugural season, Leo Dandurand and his partners purchased the track and reopened it in January 1927 under his stewardship. However, the racetrack was forced to shut down after nine days of a scheduled 37-day meeting for some economic reasons.
1943 –The United States Army assumed control of the track and used it as a training facility.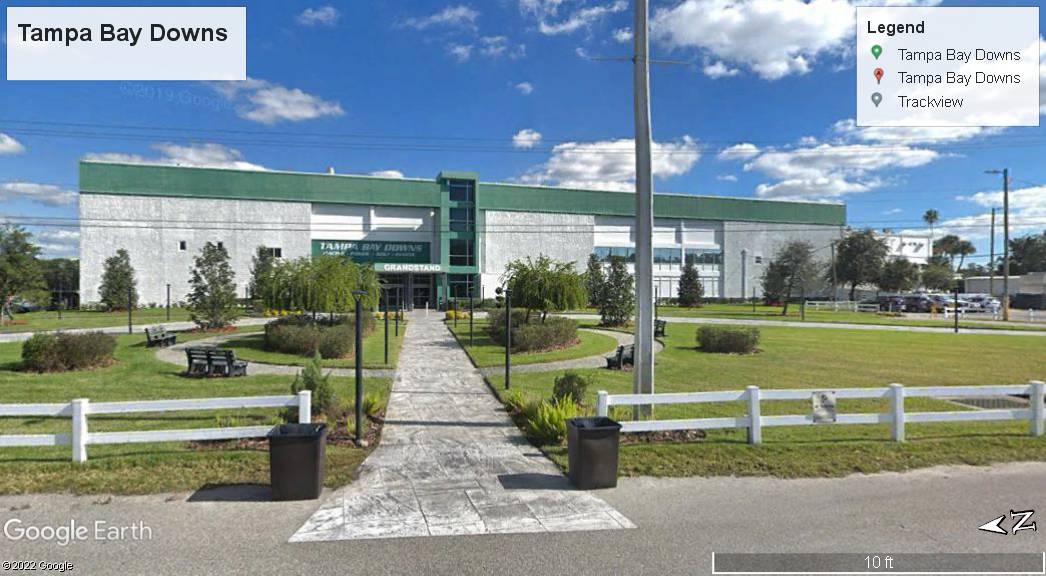 1946 – Tampa Bay Down was renamed Sunshine Park under the ownership of Tampa attorney Frank Hobbs and entered the modern era in 1946 with the installation of an electrical starting gate, a photo finish camera, and an electric tote board.
The 1950s – The racecourse became a renowned attraction to several sportswriters like Grantland Rice, Red Smith, Fred Russell, and Arthur Daley. They became regular visitors and nicknamed the track the "Santa Anita of the South."
1954 – The new clubhouse was opened. 
1965 – The racetrack was acquired by a group of Tampa sportsmen headed by Chester Ferguson, and it was renamed Florida Downs and Turf Club a year later.
1968 to 1969 – A fire devastated the grandstand in 1968, leaving only the clubhouse. Hence, the management reconstructed the facility, and the new building was opened as the season opener on January 17, 1969.
1980 – The track was renamed back to Tampa Bay Downs again. 
1983 to 2003 – The track hosted the periodic Arabian Horse Race.
1984 – The track founded a seven-furlong chute and a new dirt track before the 1985-1986 meeting. It is to have better drainage and a safer racing surface. 
1986 – The present owners of the track, Stella F. Thayer and her brother Howell Ferguson, purchased the track and its entirety at auction.
1987 to 1988 – Ronnie Allen, Jr. won his third track title in four seasons and became the first Tampa Bay Downs jockey to achieve 100 triumphs during a single season.
1989 – Inter-track wagering was founded in Florida, letting Tampa Bay Downs remain operating as a year-round simulcast facility. The Sports Gallery also opened, and the Clubhouse Turn Restaurant was extended and refurbished. Minors can access all areas except the Sports Gallery and wagering lines.
1990 – A new inner rail was constructed before the 1990-1991 meeting. 
1997 – Thayer publicized their plans to establish a 7/8-mile turf course with a quarter-mile chute. The ground was broken on May 14, while the grass was planted on September 9. 
1998 – Tampa Bay Downs completed its 7/8-mile grass track with a quarter-mile chute. Other track enhancements include a 22-acre (89,000 m2) golf range and short-game area called The Downs Golf Practice Facility, a 270-yard (250 m) driving range, and betting machines.
2003 –Tampa Bay Downs launched The Downs Golf Practice Facility in March, while the Silks Poker Room opened on December 13.
2006 – Prior to the 2006-2007 meeting, a Daktronics 16:9 ratio jumbo video board was established in the infield.
2007 – Tampa Bay Downs refurbished their facilities before the 2007-2008 race meet. They added a grandstand elevator, the Silks Poker Room (located on the third floor of the grandstand), and the Party Suite with new flat-screen TVs (besides the Silks Poker Room). Tampa Bay Downs also concluded its 81st season on May 6, 2007, with new records in a handle, attendance and purses paid. On May 5, 2007, Tampa Bay Derby winner Street Sense became the first graduate of the Tampa Bay Derby to win the Kentucky Derby.
2011– Before the 2011–2012 meeting, the track established Trakus, an electronic tracking system that shows each horse's exact position and location on TV monitors in every race. In the same year, Tampa Bay Downs commenced a green initiative to achieve a net-zero impact on the environment slowly. They also installed a CREE LED lighting system (situated in the clubhouse and grandstand) and a Gaco Sil S-20 Cool Roof coating system. Silks also brought the Bay Area Poker Club, qualifying several players for the World Series of Poker.
2013 – Before the 2013-14 race meet, the grandstand was revamped to add a pub-style social area named Rider's Up and the Metro Deli located on the downstairs level of the grandstand. Also, the same year, Tampa Bay Downs introduced the Summer Festival of Racing.
2014 – Tampa Bay downs racetrack installed a bright, redesigned circular driveway entrance before the 2014-2015 meeting. Featuring tree-lined pathways, garden landscaping, enhanced lighting, benches, and automatic sliding doors.
2017 – In April, Tampa Bay Downs publicized their plan to donate $50,000 to Oldsmar Cares, a non-profit organization that supports needy citizens. The fund was utilized to establish a new building with an extended food pantry, storage room, clothes closet area, classroom space, and a career-counseling office.
2019 to 2020 – Tampa Bay Downs and the entire Thoroughbred racing industry experienced a challenge that they had never seen before, the COVID-19 (coronavirus) pandemic. The Oldsmar oval hosted racings without spectators from March 18 through the duration of the meeting.
2020 –The 2020-2021 meeting resumed on November 25 and administered mandatory temperature checks, wearing face masks, and practicing social distancing.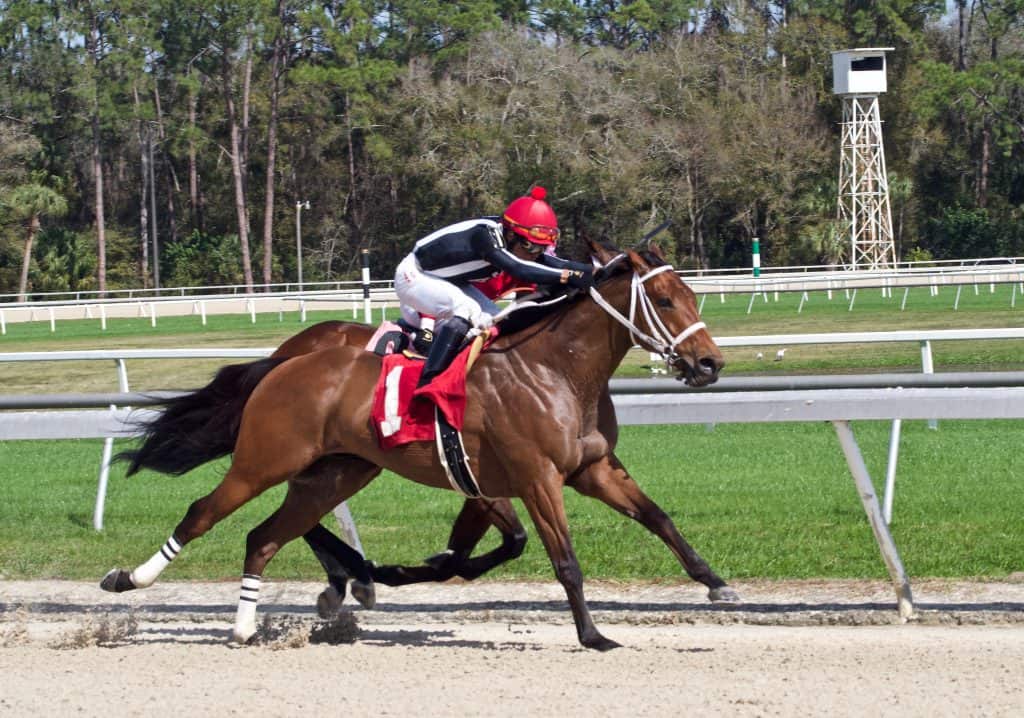 The only

Thoroughbred

racetrack on the west coast of Florida.

Informally nicknamed "the Oldsmar oval."

Also called

the "Santa Anita of the South" by several legendary sportswriters like 

Grantland Rice

, 

Red Smith

, 

Fred Russell

, and Arthur Daley. 

The track's management remained in the Ferguson family through the current ownership of President-Treasurer Stella F. Thayer and her brother, Vice President-Secretary Howell Ferguson.

Tampa Bay Downs racetrack is one of the few racetracks that remained open despite having no spectators during the COVID-19 pandemic.
Track Details and other Facilities​
Major Events and Schedule
The track races most Wednesdays, Fridays, and weekends from the end of November to the beginning of May.

Gates open at 11:00 am, Mutuel Windows open at noon, and

post time for the first race is 12:15 pm except on Festival Day, Saturday, and Kentucky Derby Day, when the

first

post time is noon.

Gates for the track-side parking lot open at 11 am.
Tampa Bay Downs Major Events
🐴Festival Day

(annual showcase) 

🐴Tampa Bay Derby

(3-year-olds at a mile-and-a-sixteenth).

🐴Hillsborough Stakes

(older fillies and

mares

at a mile-and-an-eighth on the turf)

🐴Florida Oaks

(3-year-old fillies at a mile-and-a-sixteenth on the turf) 

🐴Challenger Stakes
🐴Columbia Stakes
Grade II

🐴Tampa Bay Derby
🐴Hillsborough Stakes

Grade III

🐴

Endeavour Stakes

🐴

Sam F. Davis Stakes

🐴

Tampa Bay Stakes

🐴

Florida Oaks

🐴

Challenger Stakes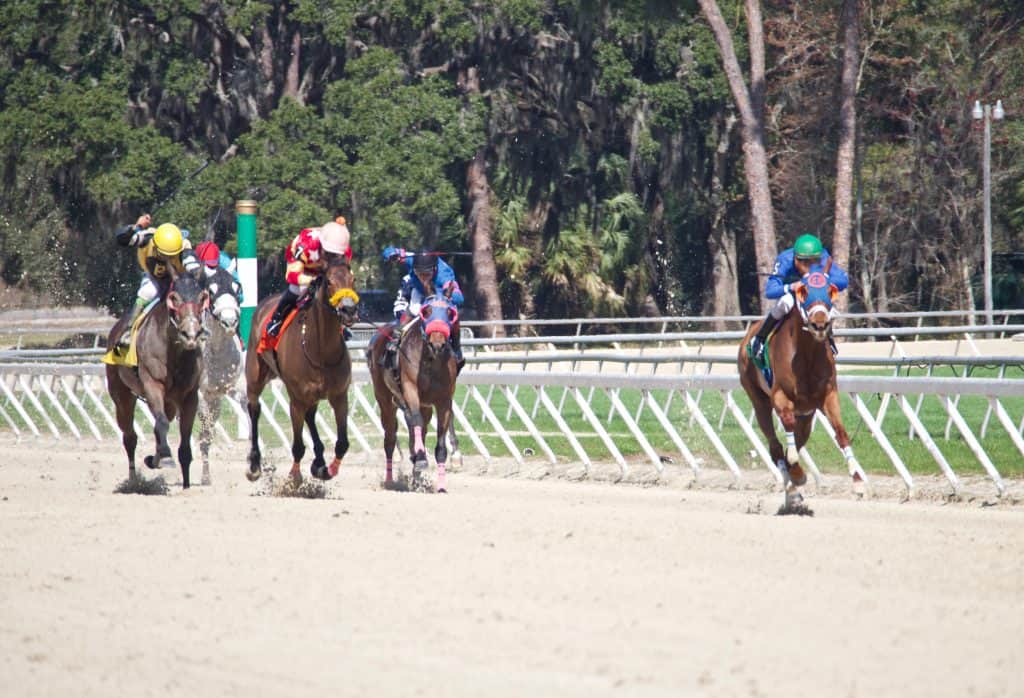 Location and Access to the Racecourse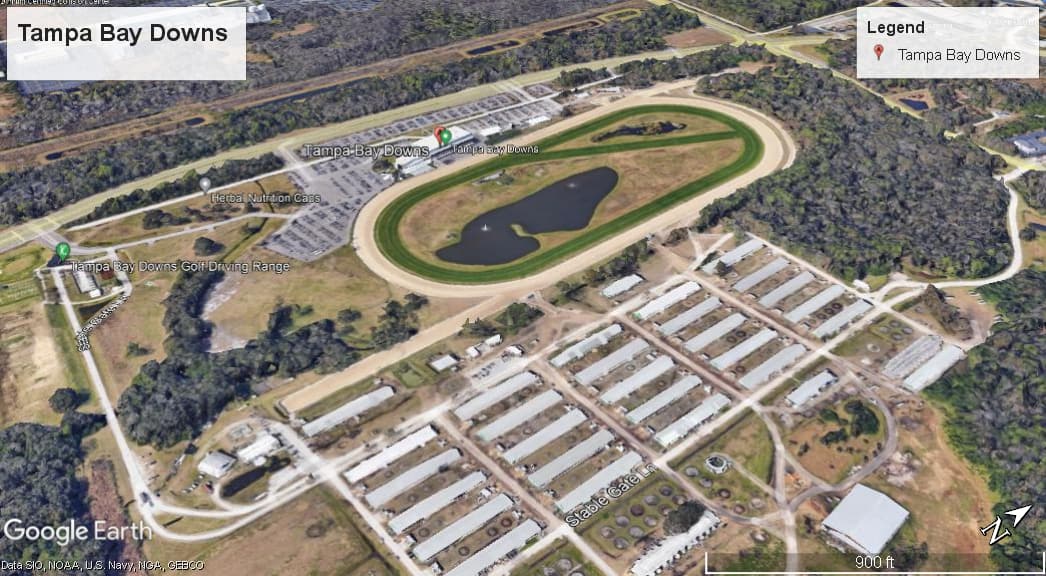 It is located north of State Road 580 (Hillsborough Avenue) on Racetrack Road.
General admission is FREE but $3.00 on Fridays, Saturdays, and Sundays.
Children 12 and under can enter the track for free but should be accompanied by an adult. 
Parking

General parking is free.
Valet Parking costs $5.00/vehicle, located in front of the Clubhouse entrance at the southernmost end of our property.
Parking for handicapped guests is available at the Grandstand and Clubhouse entrances.

Dress Code

Mandatory for gentlemen – collared shirts.
Not allowed – shorts and skorts

Bag Policy

Approved Bag

A small purse that is 8″ x 8″ with or without a handle or strap
Clear tote bags or clear backpacks.

All bags upon arrival should be inspected daily.
Other racetracks are sorted and listed on the page "List of Racetracks". To view the full list, hit the button below. You can also check the horse racing types and breeds to have a lot more in-depth knowledge about horse racing. 
Are you interested in betting now? Why not try our horse racing picks, listen to our podcasts, and have higher chances of winning!
---
You can also check Tampa Bay Downs entries and Tampa Bay Downs results using our AmWager platform for FREE!
It is easy to access and fast as 1, 2, 3!
So what are you waiting for?
STOP HORSING AROUND, GET SERIOUS, GET AMWAGER !
Sign Up now for FREE and wager like a PRO with AmWager