Don't forget you can wager on the races with AmWager
Wager on live horse races like a Pro with AmWager.
Simple…We are the best online wagering platform today. Real-time updates, exclusive tools, custom wagering types, player-focused design. Not using AmWager is like playing in the kiddie pool.
Powerful, fast, innovative, secure, yet easy to use! All because we value and listen to our customers.
Turf Paradise
Turf Paradise is a horse-racing track in Phoenix, Arizona, United States. It opened in 1956, at 1501 W Bell Rd.
1954 – Phoenix businessman Walter Cluer purchased 1,400 acres of barren desert, now 19th Avenue & Bell Road, in the Deer Valley section of Phoenix, Arizona, in the United States. 
1956 – Turf Paradise is a thoroughbred and quarter-horse racetrack that opened on January 7, 1956, making history in the Valley as the first organized professional sports franchise in Arizona. 
1980 – When Herb Owens took over, Turf Paradise was renovated. A seven-furlong infield turf course with a one-mile and one-eighth (1.8 km) chute was added. The Clubhouse was enlarged, and a Turf Club with a penthouse-style Directors' Suite and an outdoor patio were also added.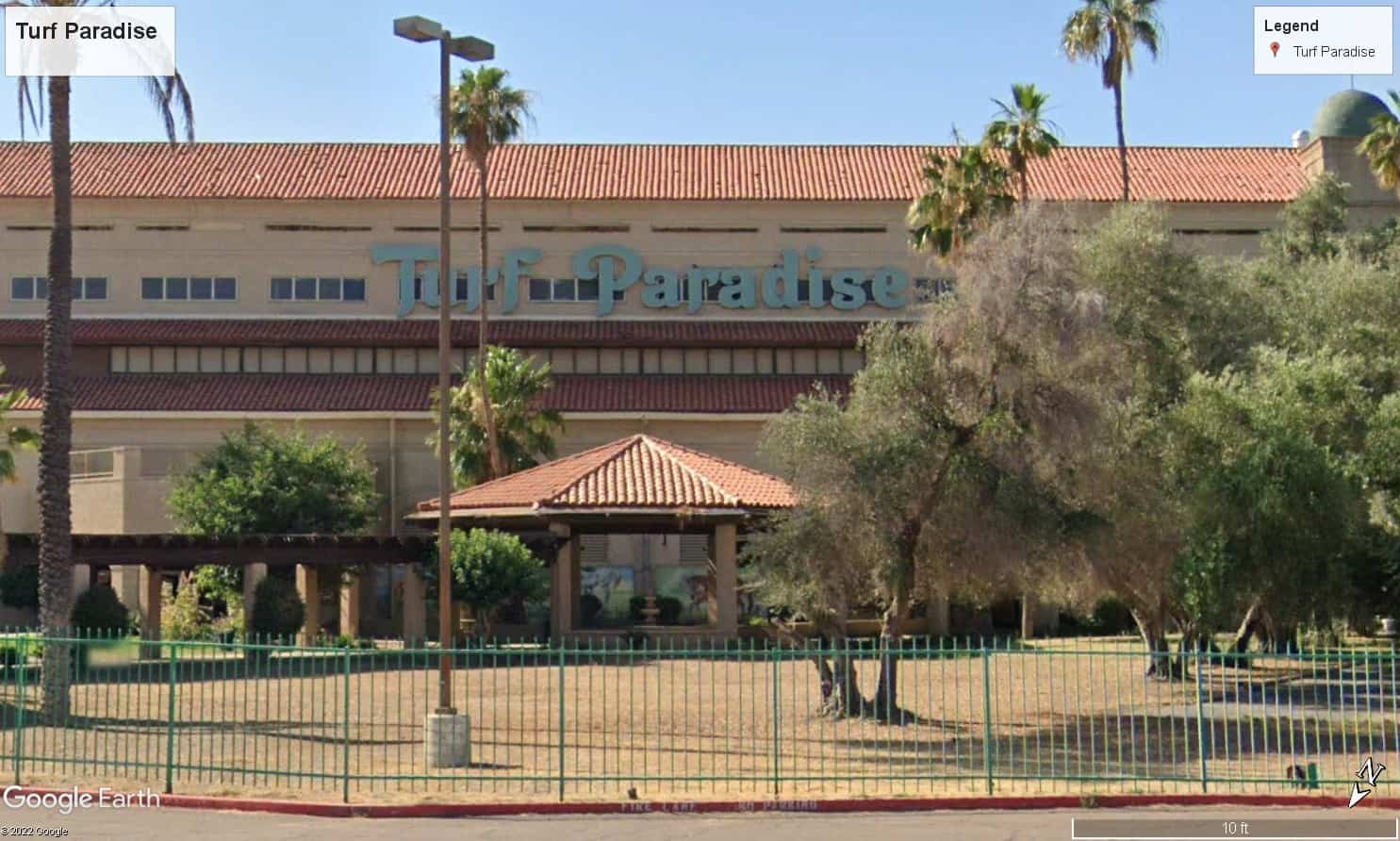 1989 – Robert Walker of Scottsdale purchased the track and shifted it into the gambling field of off-track betting. In addition, Walker and a group interested in horse racing successfully appealed to the Arizona Legislature to legalize off-track betting (OTB).
1994 – The track was purchased in a stock acquisition by California-based Hollywood Park Racetrack under the chairmanship of Randall D. Hubbard. 
2000 – The racecourse once again changed owners. Jerry Simms purchased Turf Paradise on June 16, 2000, for $53 million. He set out a $5 million renovation plan for the Clubhouse, Turf Club, main track, and turf course. 
2003 – The new owner built a $125,000 equine swimming pool in the stable area of the racetrack in the summer of 2003. The 30-foot (9.1 m) by 60-foot (18 m) pool provides advanced horse therapy for more than 2,200 thoroughbreds stabled on the backside. The pool accommodates up to six horses at a time, containing over 140,000 gallons of water and measuring 12 feet (3.7 m) in depth. The pool had an immediate effect, not only on equine health but on field size.
2004 – The racetrack continued growing and was in good financial status in 2004. The new owner purchased a property at the busy 19th Avenue and Bell Road intersection adjacent to the racecourse. He used the land for commercial development and to enhance the racing operation.
2020 – The meet ended early as the COVID-19 pandemic caused the track to shut down indefinitely. 
2021 – Racing returned on January 4, 2021, with an 84-day race meet judged to be one of the most successful at the track in recent times.
Before building the racetrack, local citizens believed that his business would fail as the location was 25 miles (40 km) from downtown Phoenix, with the only way being through rough and dirty roads. However, he pushed through Turf Paradise's foundation and succeeded in it. It is widely known as the home of the Turf Paradise Derby in February, an official prep race for the Kentucky Derby. The racecourse is now the 3rd largest sports attraction in the State & holds the court to one of the country's longest seasons of Thoroughbred racing.
Track Details and Other Facilities
🐎Triple Crown Grill

It

is located on the main level.

The grill is open on live race days from 11 am until the last live race. 

🐎Mario's Pizza

 

It is located on the main level 

It is open on Saturdays and Sundays from noon until the last live race. 

🐎Snack Shack

It is located on the main floor by the Grandstand entrance.

It is open on weekends and certain weekdays.

🐎Habanero's Grill

It

is located on the second level of the Grandstand.

It is open from 11:00 am to the last live race on Saturdays and Sundays.
Race Schedule and Major Events & Races​
🐎Live Racing Schedule

Gates open for General Public at 11:00 am.

Live Racing Season is from October to May. 

From Saturday to Wednesday.
Turf Paradise Racing Events
🐎Turf Paradise Racing Most of Records/ Events

Most Wins by a Jockey in One Day: 7, Roy York, January 14, 1970; Marty Wentz, December 17, 1983
Most Wins in a Race Meet by a

Jockey

: 229, Pat Steinberg, 1987-1988
Most Championships by a Jockey: 16, Jim Powell
Most Wins in One Meet by a Trainer: 125, Robertino Diodoro, 2013-2014
Largest On-Track Crowd: 14,633. December 31, 1983
Largest On Track & OTB Crowd: 23,805, May 3, 2014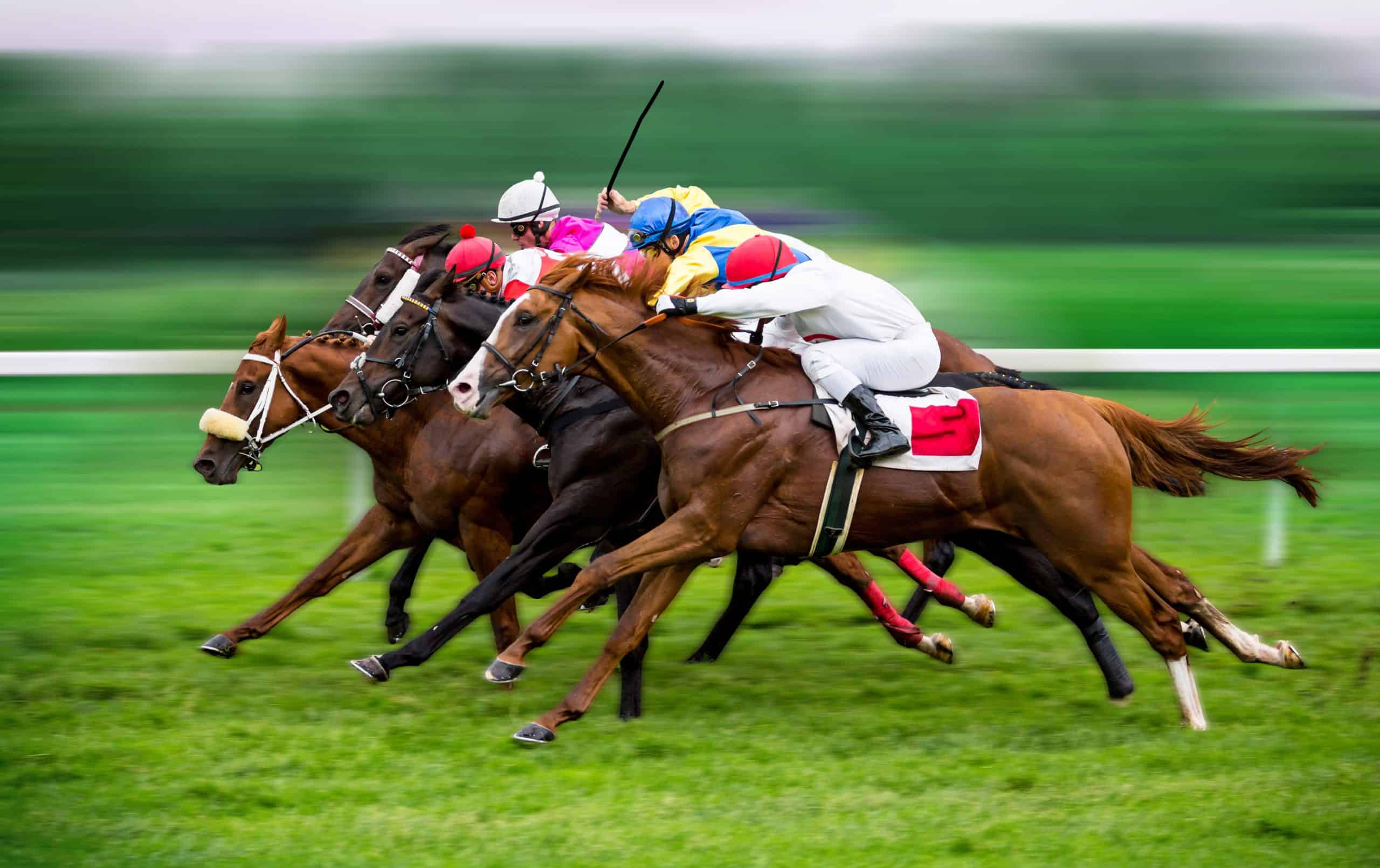 🐴Turf Paradise Derby
🐴Phoenix Gold Cup Handicap
🐴Cotton Fitzsimmons Mile Handicap
Location and Access to the Racecourse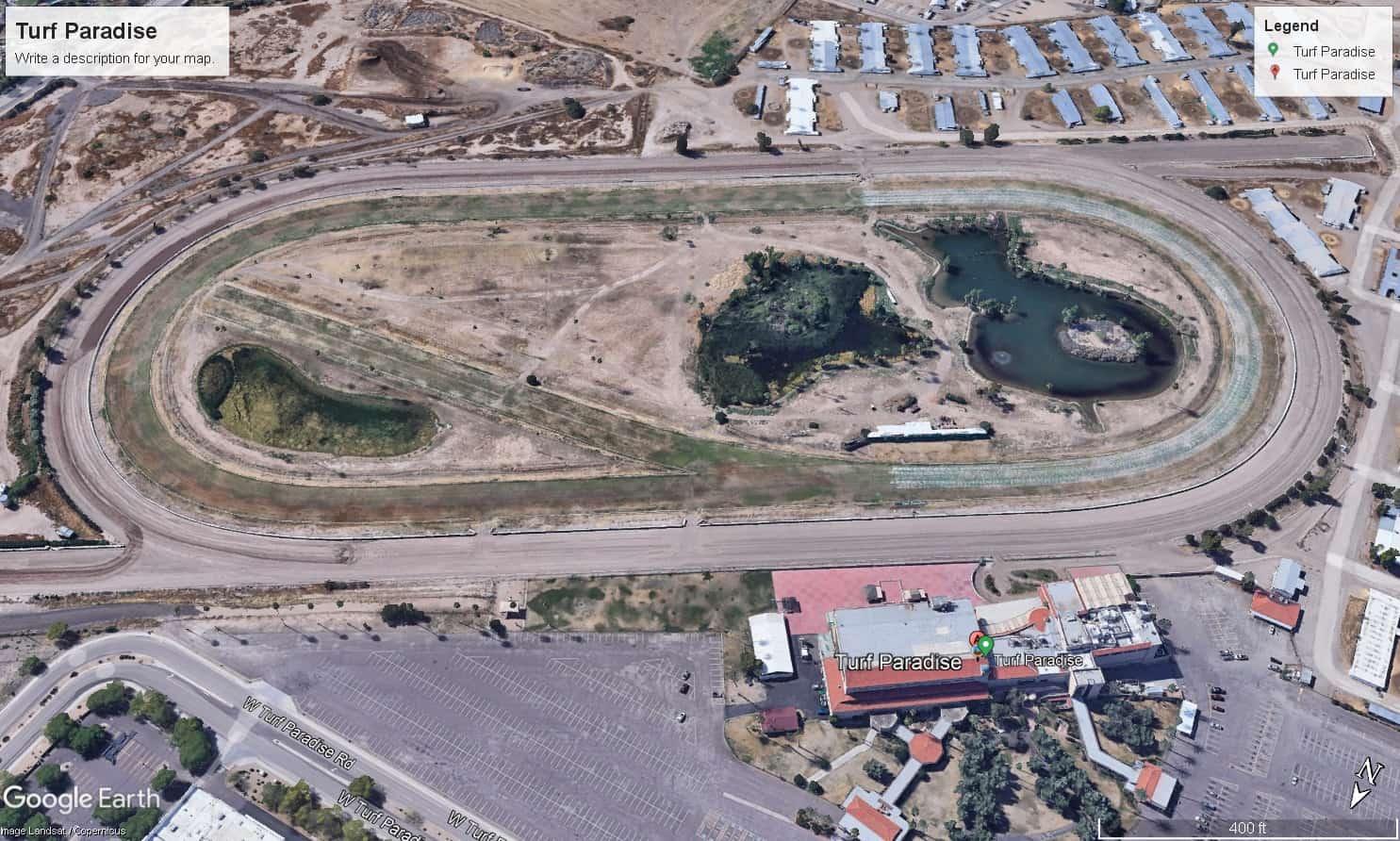 Turf Paradise has 90-foot marquees at both entrances connecting Turf Paradise Road through the property from Bell Road to 19th Ave. 
It is located at 19th Avenue just south of Bell Road in the Deer Valley section of Phoenix, Arizona, in the United States.

It is approximately 24 miles From Sky Harbor Airport.

General Parking is free, Valet Parking costs $1, and Valet on

Kentucky Derby

Day costs $15.
Other racetracks are sorted and listed on the page "List of Racetracks". To view the full list, hit the button below. You can also check the horse racing types and breeds to have a lot more in-depth knowledge about horse racing. 
You can also check Turf Paradise results and Turf Paradise entries using our AmWager platform for FREE!
It is easy to access and fast as 1, 2, 3!
So what are you waiting for?
STOP HORSING AROUND, GET SERIOUS, GET AMWAGER !
Sign Up now for FREE and wager like a PRO with AmWager