Don't forget you can wager on the races with AmWager
Wager on live horse races like a Pro with AmWager.
Simple…We are the best online wagering platform today. Real-time updates, exclusive tools, custom wagering types, player-focused design. Not using AmWager is like playing in the kiddie pool.
Powerful, fast, innovative, secure, yet easy to use! All because we value and listen to our customers.
Golden Gate Fields
Golden Gate Fields is a horse-racing track in Berkeley, California, United States. It opened in 1941, at Eastshore Hwy.
History of Golden Gate Fields
1879 to 1892 – The race track was originally a part of the slough into which three creeks drain, Schoolhouse Creek, Codornices Creek, and Marin Creek. It was also used to send cattle across the bay to San Francisco for slaughter and processing. Then, later on, a Giant Powder Company purchased it, and it recorded that the plant blew up twice between 1879 and 1892.
1941 – Just before World War II, the Golden Gate Fields opened in 1941. Right after the opening, Golden Gate Fields created the Golden Gate Handicap.
1950 – Noor and Citation met in Golden Gate Handicap and were considered the most exciting horse racing rivalries in the sport's history for some fans. 
1972 – The infield turf course was established on February 22, 1972.
1980 – On February 7, the track introduced one-window wagering through the American Tote 300.
1989 – UK-based Ladbroke Racing acquired the Golden Gate Fields.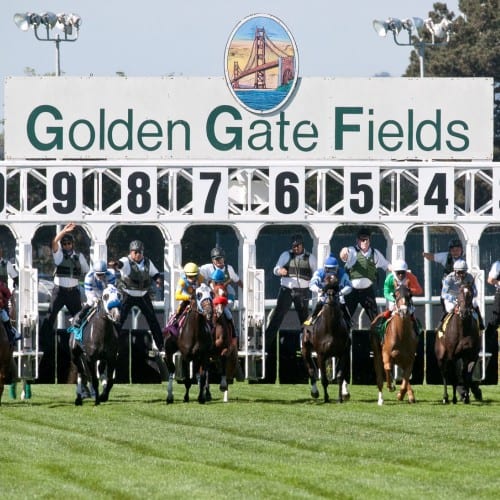 1992 – Russell Baze set a Golden Gate Fields record for most wins in a meet on June 10 with his 165th victory.
1999 –  A different company again acquired the Golden Gate Fields in 1999, the Magna Entertainment Corporation.
2007 – A synthetic track was established during the summer of 2007, as mandated by the California Horse Racing Board. It is called Tapeta synthetic all-weather racing surface, created to have a safer race for horses and riders.
2008 – Bay Meadows lost to developers. Golden Gate Fields became Northern California's only major racetrack except for the racetracks connected with the summer fair circuit. 
2009 to 2011 – Magna filed for bankruptcy In March 2009. Hence, the Stronach Group purchased the Golden Gate Fields on July 3, 2011, to salvage from bankruptcy.  
2016 – Golden Gate Fields hired the 29-year-old Angela Hermann as the track announcer after Michael Wrona. She was the first full-time female race caller in the United States after Ann Elliott in the 1960s.
The song "GGF", about lead singer Tim Armstrong's childhood near Golden Gate Fields, was written and performed by the Punk rock band Rancid on their 2000 self-titled album. Rancid video "Last One to Die" featured the Golden Gate Fields. Sal Paradise visited the Golden Gate Fields with his friend Remi Boncœur who lost all their money before the seventh race in the novel On the Road by Jack Kerouac. A scene from a movie titled Metro was also filmed at Golden Gate Fields.
Track Details and Other Facilities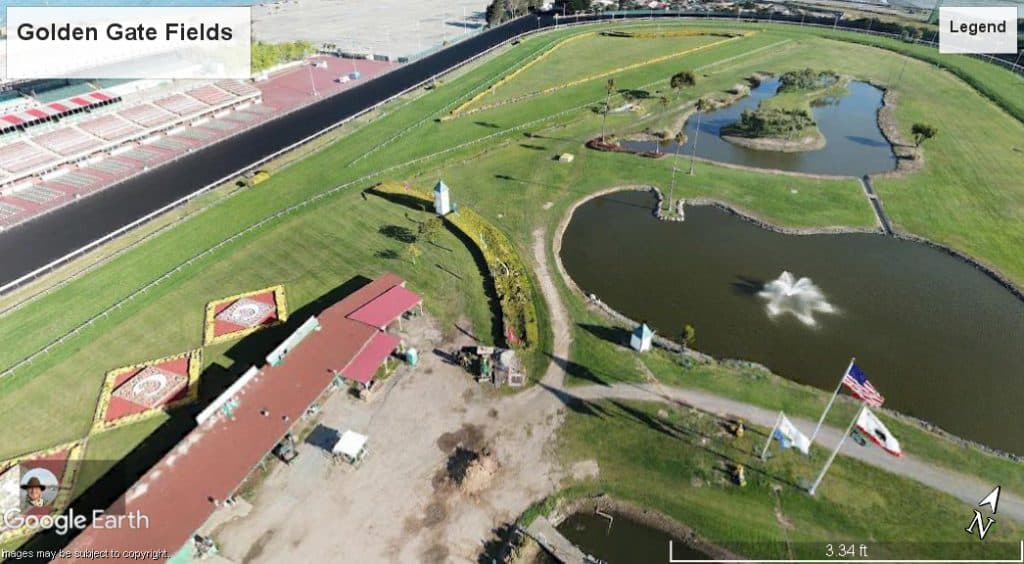 🐎Whole Racetrack

The track is set on 140 acres (0.57 km

2

) of land.
It measures one mile and is oval (sandy loam).

The Stretch width is 78 feet.
Backstretch

is 75 feet.

The distance from the last turn to the finish is 1,000 feet.

The distance from the finish line to the first turn is 383 feet.

🐎Lakeside

Turf Course
It can accommodate approximately 8,000 customers,
It has seating that can accommodate approximately 5,200 customers.
It has seats for approximately 1,500 customers
No Walk-Up Admission, and you should purchase turf club tickets in advance.

The Turf Club Restaurant opens at noon and closes following the day's last race.

It is situated on the top level of the grandstand.

Dress Code:

Business casual attire is recommended.

Collared shirts & dress slacks are preferred.

Dresses are also acceptable.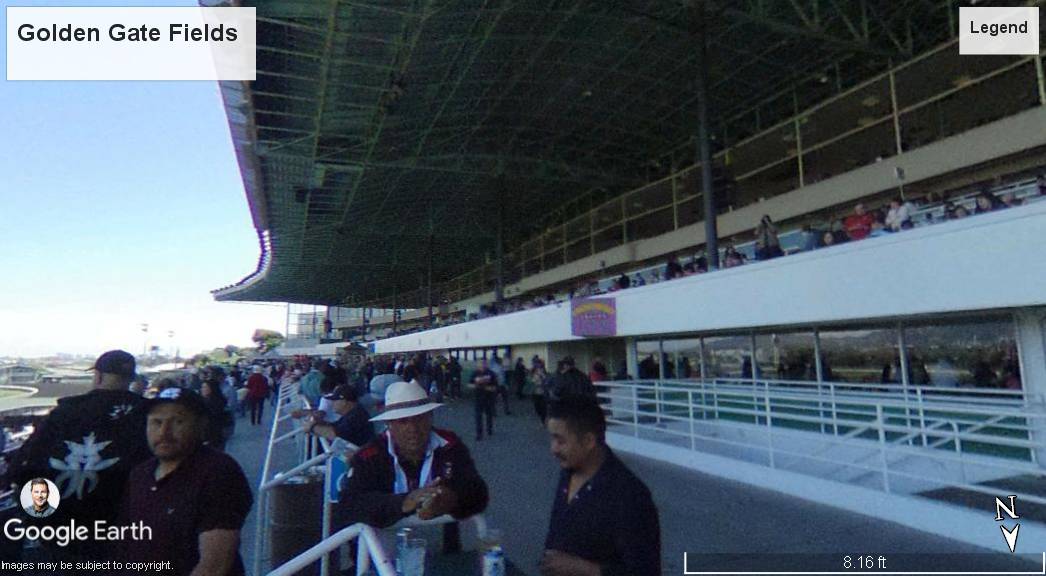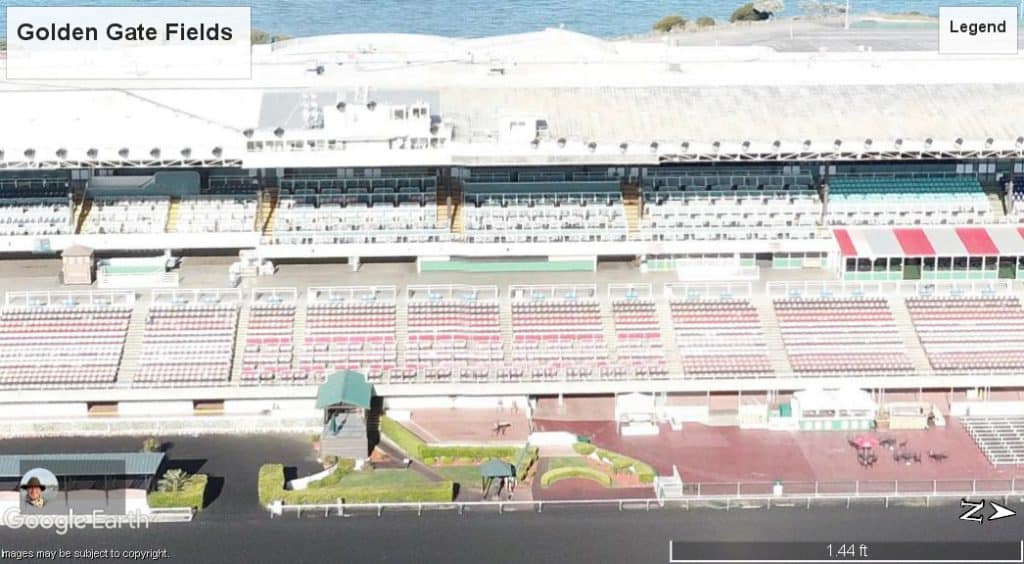 Race Schedule and Major Events & Races​
Golden Gate Fields Schedule
🐎Live Racing Schedule

Race Days are Fridays to Sundays.

The first post is every 12:45 PM, depending on the events.

🐎Opening of the Gate

Gates Open at noon (12 PM).

Gates close 30 minutes following the conclusion of the last race.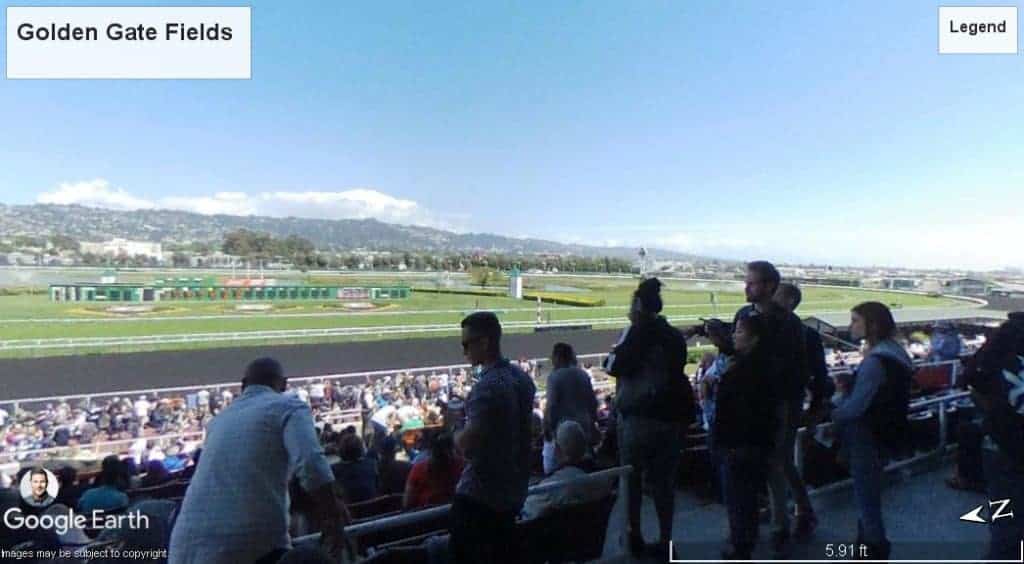 🐴Berkeley Handicap

🐴San Francisco Mile Stakes
🐴El Camino Real Derby

🐴California Derby

🐴All American Stakes
Overnight Handicaps and Ungraded Stakes Events
🐴California Oaks

🐴Silky Sullivan Handicap

🐴Albany Stakes

🐴Alcatraz Stakes

🐴Campanile Stakes

🐴Golden Poppy

🐴Tanforan Stakes

🐴Miss America Stakes

🐴Corte Madera Stakes

🐴China Basin Stakes

🐴Gold Rush Stakes

🐴Half Moon Bay Stakes

🐴Lost in the Fog Stakes

🐴Pacific Heights Stakes

🐴Mill Valley Stakes

🐴Raise Your Skirts

🐴Tiburon Handicap

🐴Sausalito Stakes

🐴Forty Niner Stakes

🐴Stinson Beach Stakes

🐴Oakland Stakes

🐴Golden Gate Fields Sprint

🐴Work the Crowd

🐴Silveyville Stakes

🐴Golden Nugget Stakes
Location and Access to the Racecourse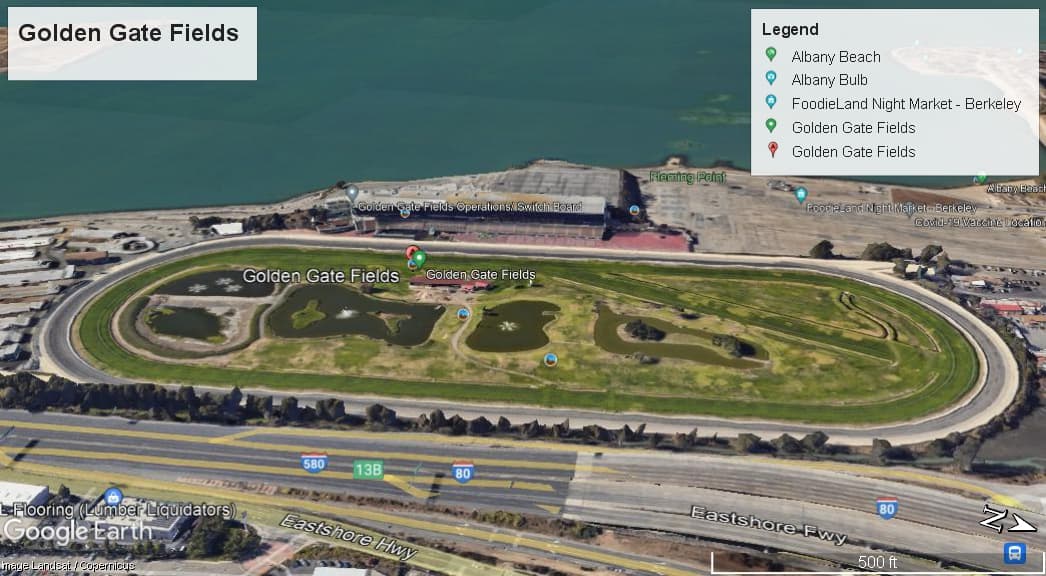 It is an American 

horse racing

 

track

 straddling both 

Albany, California

, and 

Berkeley, California

, along the shoreline of 

San Francisco Bay

 adjacent to the 

Eastshore Freeway

 in the 

San Francisco Bay Area

.

It is bordered by the Albany Bulb, Albany Beach,  and Albany Plateau on the North. To the east is Interstate 80, and to the south the Berkeley Meadow.

It is accessible from Gilman Street, Albany exits of the 

East shore Freeway,

and adjacent city streets. 
AC Transit provides a seasonal bus service, line 304, between the track and North Berkeley BART station until 2008.

East Shore Charter Lines started to provide the racetrack with a new free service from the BART station in 2009.
Single Stadium Seating or Box Seating
It costs $15 per person for 18 years old or above.

The package includes (1) Admission, (1) Club House Box Seating, (1) Daily Race Program, and (1) Self-Parking (if applicable).

Most boxes' capacity is up to 8 adults.
It costs $20 per person for 18 years old or above.

It is open in a limited capacity on Saturday, Sunday, and selected Holidays.

The package includes (1) Track Admission, (1) Turf Club Seating, (1) Daily Race Program, and (1) Self-Parking (if applicable).
Children under the age of 17 
FREE to enter the racetrack but should be accompanied by a paid adult admission.

They must have an "Add-on Ticket" with a valid paid adult ticket/reserved box seat on the same reservation. 
Other racetracks are sorted and listed on the page "List of Racetracks". To view the full list, hit the button below. You can also check the horse racing types and breeds to have a lot more in-depth knowledge about horse racing. 
---
You can also check Golden Gate Fields entries and Golden Gate Fields results using our AmWager platform for FREE!
It is easy to access and fast as 1, 2, 3!
So what are you waiting for?
STOP HORSING AROUND, GET SERIOUS, GET AMWAGER !
Are you interested in betting now? Why not try our horse racing picks, listen to our podcasts, and have higher chances of winning!
Sign Up now for FREE and wager like a PRO with AmWager