Don't forget you can wager on the races with AmWager
Wager on live horse races like a Pro with AmWager.
Simple…We are the best online wagering platform today. Real-time updates, exclusive tools, custom wagering types, player-focused design. Not using AmWager is like playing in the kiddie pool.
Powerful, fast, innovative, secure, yet easy to use! All because we value and listen to our customers.
Keeneland Race Track
Keeneland Race Track is a horse-racing track in Lexington, Kentucky, United States. It opened in 1936, at Versailles Rd.
History of Keeneland Race Track
1936 – It was inaugurated on October 15, 1936, and originated as a non-profit racing–auction entity on 147 acres (0.59 km2) of farmland west of Lexington, owned by Jack Keene. Keeneland Association, Inc. is an equine business based in Lexington, Kentucky. It includes two distinct divisions, the Keeneland Race Course, a Thoroughbred racing facility, and Keeneland Sales, a horse auction complex.
1940 – Electric starting gate was introduced in April for the Spring Meet.
1949 – Keeneland replaced the old wooden rail with an inside aluminum rail for its spring meeting.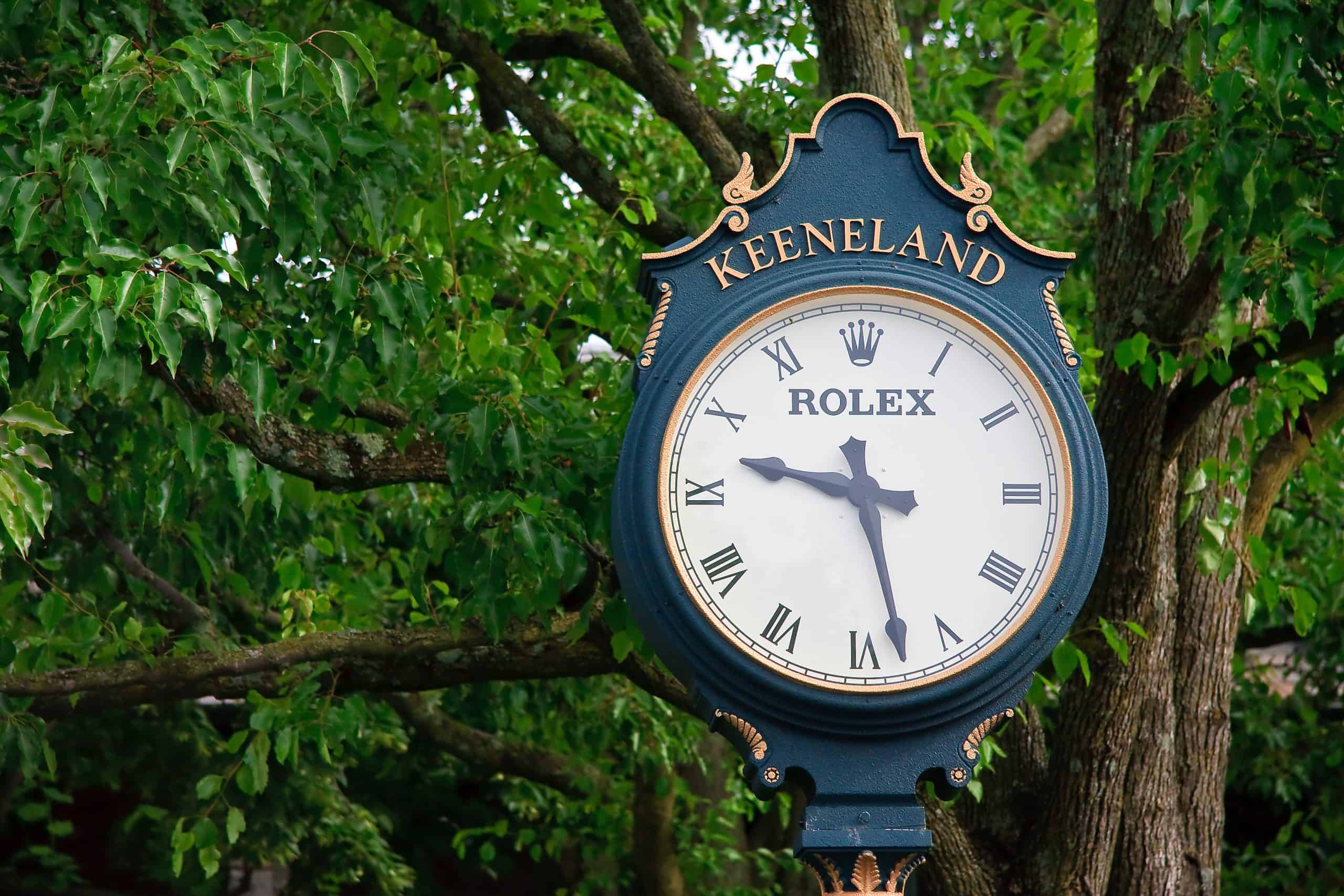 1950 – The box seat area was refurbished in preparation for the 1950 Spring Meet. The old wooden structure was replaced by steel, aluminum, and concrete. 
1953 – The Keeneland management enlarged and extended the grandstand for the 1953 Fall Meet. It increased the seating capacity to 3,849 and added a new dining room with 384 seats. The finish line was relocated as the Beard Course ( named to honor Louis Beard) of seven furlongs and added 184 feet of length. It extended the course length from 990 feet to 1,174 feet. 
1954 –The film patrol system was introduced and first utilized on April 1954.
1955 – Keeneland installed a five-furlong training track which opened in September 1955. 
1956 – the main track underwent a complete renovation, costing $150,000, to enhance the surface and sub-surface drainage. 
1961 – An alphanumeric message board was installed at the ground level in front of the infield tote board for the 1961 Spring Meet in April. 
1963 – Keeneland management established an alternate finish line at the sixteenth pole for the 1963 Spring Meet.
1967 – In April, closed-circuit TV monitors were installed in the grandstand and clubhouse areas.
1973 – Keeneland racetrack installed four 40-stall barns to the backside.
1976 – The original wooden grandstand since the inauguration of the track was replaced with a new section of concert and steel in preparation for the 1976 Fall Meet.
1980 – Keeneland racetrack established a walking ring at the Sales Pavilion to allow buyers to scrutinize the horses before entering the auction ring.
1984 – Keeneland constructed a trackside Winner's Circle and created the Queen Elizabeth II Challenge Cup Stakes for the coming visit of Queen Elizabeth II.
1985 – The management installed a turf course and opened the new grandstand entrance beside the paddock and walking ring. 
1986 – It was recognized as a National Historic Landmark for its role in horseracing sport's growth and revitalization in Lexington.
1990 – Keeneland originally raced from Tuesdays to Saturdays. However, more people could attend on Sundays than on Tuesdays, and the competition from other tracks and other entertainment venues motivated them to request for approval of racing on Wednesdays through Sundays on June 1990.
1991 – The Keeneland was approved for its new racing schedule (Wednesday to Sunday) and held its first Sunday meeting in the spring of 1991.
2003 – The 2003 movie Seabiscuit filmed most of its scenes at the Keeneland racetrack because of the racetrack's "retro feel".
2005 – Keeneland also became the filming location of the 2005 movie Dreamer.
2006 –  Keeneland replaced the dirt surface with a Polytrack surface and reshaped the main track over the summer of 2006 in preparation for the fall race meeting.
2009 – The Horseplayers Association of North America introduced a rating system for 65 Thoroughbred racetracks in North America, and Keeneland was ranked #1 of the top ten tracks. It is also known for its reference library, which is open to the public and devoted to thoroughbred horses. It has a notable collection of books (The Blood-Horse of January 6, 1940) and numerous photographic negatives.
2010 – Several significant scenes of the 2010 movie Secretariat were also filmed at the Keeneland race track. 
2014 – Keeneland racetrack restored its dirt racing surface during the summer of 2014.
2015 – The first Breeders' Cup hosted in Keeneland was held in 2015. 
2020 – The COVID-19 pandemic in the United States caused Keeneland to cancel their Spring meeting from April 2 to 24, 2020. It was shortened to five days and rescheduled from July 8 to 12, 2020. 
Track Details and Other Facilities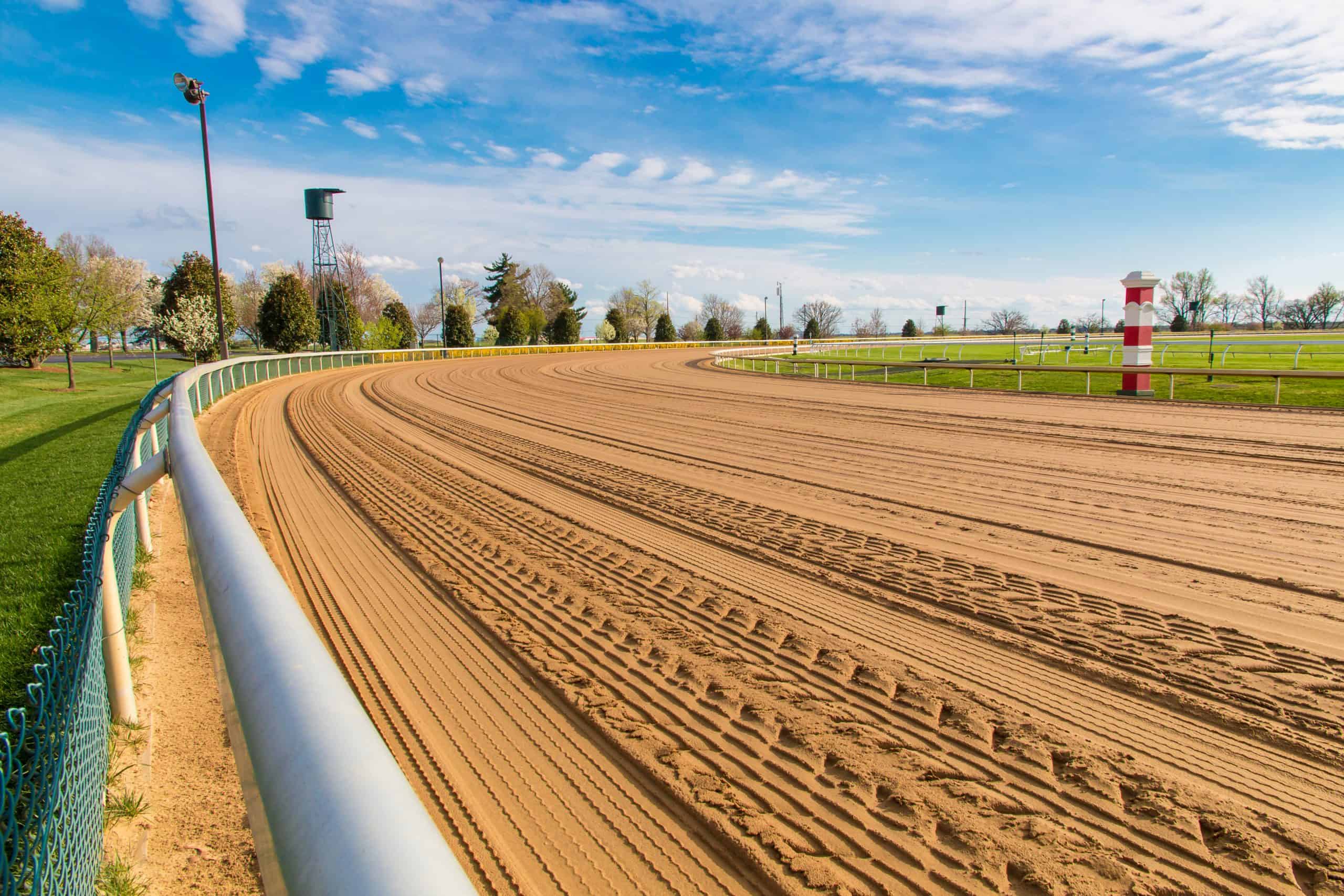 🐎Main Oval Track (Dirt)
🐎Beard Course

It is named after the founding member Major Louis Beard

Starts in a

chute

on the

backstretch

and continues for seven

furlongs

and 184 feet. 

🐎Headley Course
🐎The Oval turf Course
🐎All-weather training track
🐎Standard Corporate Suite – Race Day Hospitality

Capacity – 16 guests

Includes reserved row parking, admission, and program. 

Tickets cost $175 per person

Available Televisions, Private Mutuel machine

Hosting a Meeting is not permitted

Dress Code

Gentlemen – Suits or sport coats, dress slacks, dress shirt with collar and tie. 

Ladies – Clothing comparable formality to gentlemen, including but not limited to skirts, dresses, tailored pantsuits, or dress slacks. 

Not Permitted Denim – regardless of color, slacks designed to resemble jeans, shorts (including rompers), clothing or shoes that resemble athletic attire, abbreviated or revealing attire. 

Dress code rules do not apply to children 12 and under.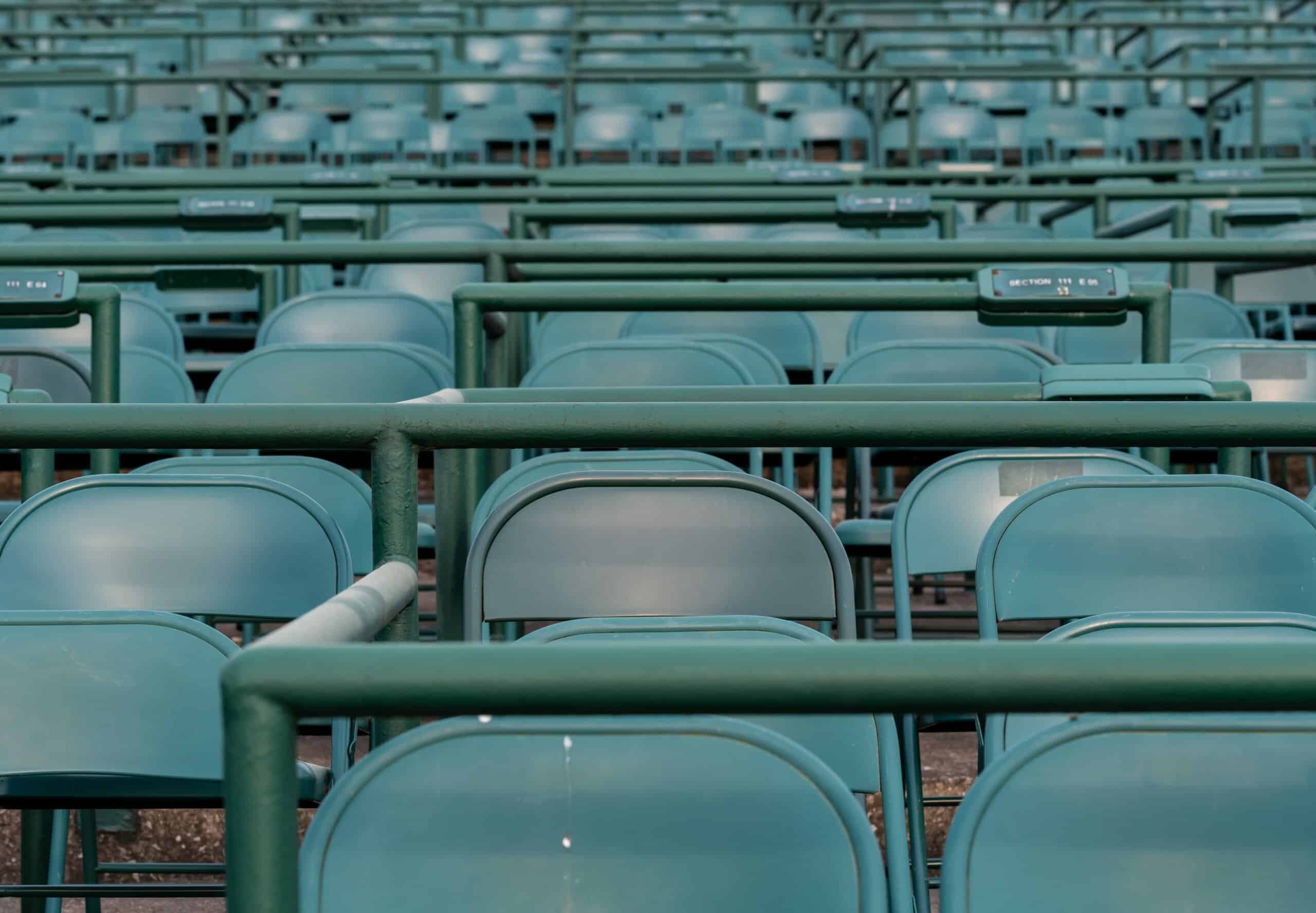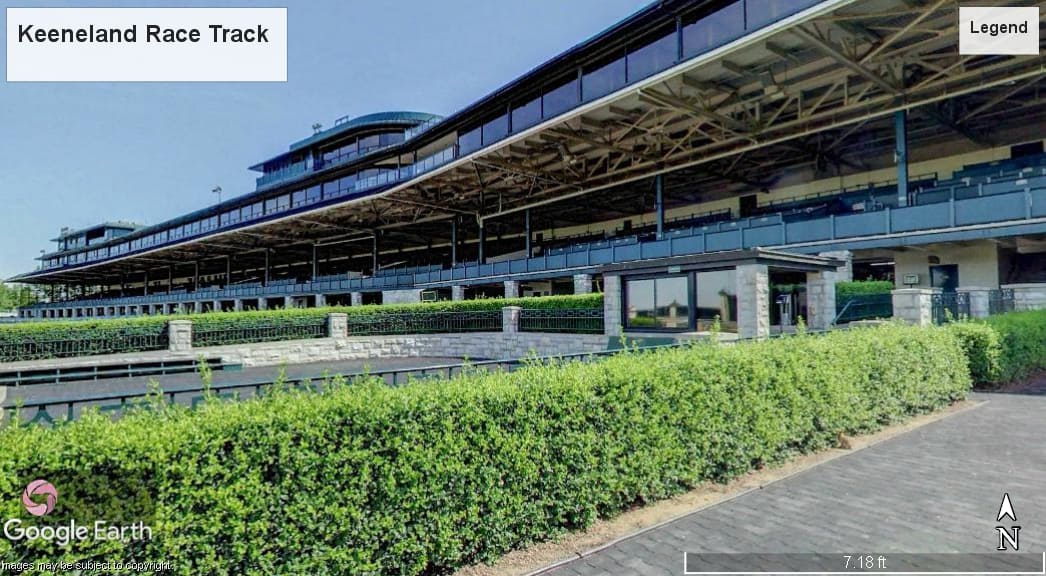 🐎Sales Pavilion

Capacity

Sales Arena – 700

seats

Holding Ring – 120 seats, 200 cocktail

Limestone Café – 100 seats, 150 cocktail

Pavilion Bar – 100 seats, 100 cocktail

Conducts Three sales Annually

The September Yearling Sale

November Breeding Stock Sale

January Horses of All Ages Sale

Horses sold at Keeneland sales

82 horses that won 88 Breeders' Cup World Championship races:

19

Kentucky Derby

winners

21 Preakness winners

18 Belmont winners

11 recipients of the Eclipse Award as Horse of the Year

Five Epsom Derby winners

Nine out of the fourteen highest-ranked horses in the Kentucky Oaks were sold in Keeneland sales.
🐎Entertainment Center & Keene Barn -Venue for Wedding

Capacity

Minimum: 250

Seated: 450

Cocktail: 850

Ceremony options:

In Front of the Keeneland Library (outdoor)

In Front of the Keene Barn (outdoor)

Inside the Keene Barn (indoor/covered)

🐎Keeneland Room

Remodeled for the Queen of England

Located on the 5th floor, overlooking the scenic Horse Capital of the World. 

Capacity

Minimum: 20

Seated: 60

Cocktail: 80

Ceremony options:

Track

Apron

—

Tote Board

Backdrop (outdoor)

Track

Apron

—Winner's Circle Backdrop (outdoor)

Under the grandstand (covered)
🐎Keeneland Clubhouse

Capacity

Minimum: 70

Seated: 150

Cocktail: 200

Ceremony

options:

Clubhouse Lawn— Keeneland Gates Backdrop (outdoor)

Clubhouse Lawn—Grandstand Backdrop (outdoor)

Tunnel Connecting

Paddock

and Track (covered)
🐎The Keeneland Kids Club

It is in partnership with the UK HealthCare Kentucky Children's Hospital.
A free official club for Keeneland fans 12 and under.
New members can acquire a personalized membership packet and special monthly emails from Buckles with highlights from other members of the thoroughbred community.
🐎Tailgating At Keeneland

At paved parking areas each race day and on "The Hill."
Tailgating area is available each Friday and Saturday in every racing season. 
The Hill is accessible via Gates 1 or 4 at no charge
Complimentary shuttle service is available to the Grandstand area.
Premium tailgating options are available for groups of any size – from 10 to 150. Scroll to learn more.
Tailgating Tents

Pop-up tents are permitted throughout parking areas on The Hill.
All staked tent rentals should be booked through Keeneland-allowed vendors. 

Premium Tailgating Packages

On Fridays and Saturdays during the Fall Meet
Groups of any size can arrange for a reserved tailgating package, including a designated tent, chairs, tables, and more.

Tailgating For Large Groups
Race Schedule and Major Events & Races
🐎

Live Racing Schedule

Hosts live race racing every April and October, from

Wednesdays to Sundays.

Admission gates are open at 11 a.m.
Keeneland Racetrack Schedule
Morning Works

The ground level of the grandstand is open until 10 a.m. for viewing of Morning Works.

No ticket or admission is required. 

Keeneland Shop

No racing days, Mondays & Tuesdays

The ground level of the grandstand is still open to the public

No ticket or admission is required.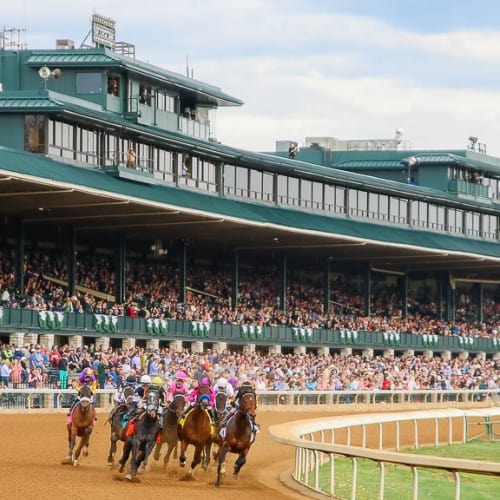 Grade I 

🐴

Alcibiades Stakes

🐴

Breeders' Futurity Stakes

🐴

First Lady Stakes

🐴

Jenny Wiley Stakes

🐴

Keeneland Turf Mile Stakes

🐴

Madison

Stakes

🐴

Maker's 46 Mile Stakes

🐴

Queen Elizabeth II Challenge Cup Stakes

🐴

Spinster Stakes
Grade II

🐴

Appalachian Stakes

🐴

Elkhorn Stakes

🐴

Fayette Stakes

🐴

Jessamine Stakes

🐴

Marathon Stakes

🐴

Phoenix Stakes

🐴

Raven Run Stakes

🐴

Shakertown Stakes

🐴

Thoroughbred Club of America Stakes

🐴

Woodford Stakes
Location and Access to the Racecourse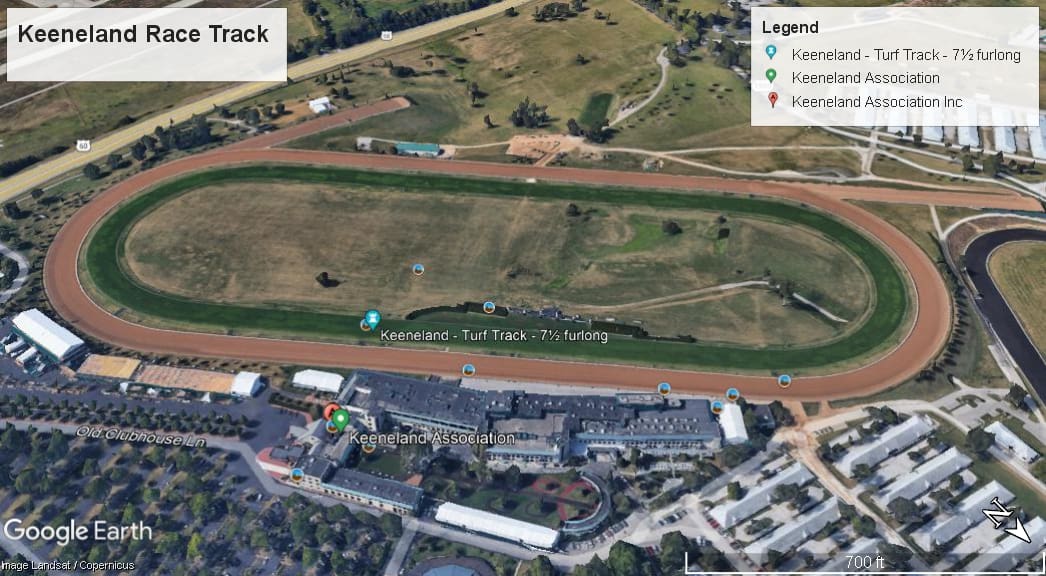 General Admission Tickets cost

$7 in advance and $10 on the day.

Parking 

It is free across the grounds with several zones.

All permit parking is recommended to enter through Gate 2.

Handicapped Parking

Available in rows 21 – 23

It has golf carts shuttling to the Grandstand South Entrance.

Suggested entry through Gate 2.

Bus Parking

A designated lot for buses and RVs 

Adjacent to Barns 1-3

Costs $10 cash

Suggested entry through Gate 1.
Taxi/Uber/Lyft Station

Drop-off and pick-up areas for taxis, Uber, Lyft, and other rideshare options.

It is located at the top of the Drive-Thru Betting lane, near row 27.

Accessible via Gate 2.
Other racetracks are sorted and listed on the page "List of Racetracks". To view the full list, hit the button below. You can also check the horse racing types and breeds to have a lot more in-depth knowledge about horse racing. 
Are you interested in betting now? Why not try our horse racing picks, listen to our podcasts, and have higher chances of winning!
---
You can also check Keeneland race results and Keeneland race entries using our AmWager platform for FREE!
It is easy to access and fast as 1, 2, 3!
So what are you waiting for?
STOP HORSING AROUND, GET SERIOUS, GET AMWAGER !
Sign Up now for FREE and wager like a PRO with AmWager