AmWager Advanced Features
Dutch betting is a powerful AmWager feature that can quickly give you an edge over the competition and improve your cash return. It is easy and fast to use, even an absolute novice can utilize AmWager's built in realtime dutch wagering calculator and improve their wagering game. As our resident handicapper Papo Morales put it:
You have $20 to spend at the grocery store to buy three things to make a sandwich: bread, cheese, and meat. Would you take that $20 and divide it by three and spend $6.66 on each item, when the bread cost $1.99, cheese $3.49, and meat $6.99? The simple answer is no.
Unfortunately, that is what you are doing when you are boxing your wagers. When you box your selections, regardless of what the current odds are, you are essentially spending the same of amount on each selection even though they are at different odds. In other words, you are lowering your return on investment (ROI).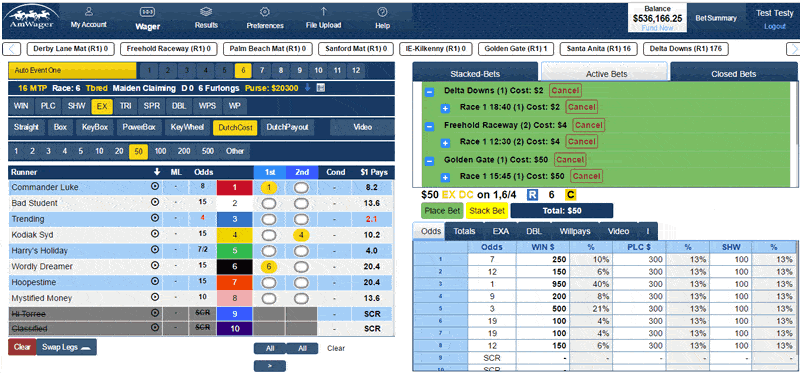 Dutch wagering can be a risk-minimizing, profitable and useful strategy under any of the following scenarios:
A player has narrowed down the win contenders to 2 or more runners, all of whom can be bet and still generate a positive ROI.
A false favorite is over bet, and a profit can be realized if any (or most others) in the race win.
In a wide-open race a number of logical long shots can be identified.
The favorite or second favorite is a likely winner, but the second favorite or favorite is vulnerable creating exacta overlays with the logical contenders underneath.
Inefficiencies exist in the exotic pools so that a series of properly structured wagers will generate a return in excess of a win bet ( e.g. a horse is 2-1 in the win pool but 3-1 in the exacta pool).
Dutch wagers are sized using current odds/probables…a shift in final odds can impact the actual success ROI.
Read below for the full Dutching Guide:
Dutch betting allows a player to create a bet built from multiple individual wagers, with the aim being to achieve the same payout no matter what selected runner comes in. This gives players a powerful tool to spread their stake across multiple runners, gaining the same payout if any selection comes in. The AmWager dutching calculator lets you achieve this in two ways, by choosing your desired total stake amount or choosing the desired payout amount.
You can dutch on any win bet, exacta bet, quinella bet, or daily double bet that has odds by clicking on the "Dutch Cost" or "Dutch Payout" buttons on the strategy bar. If there are no odds available, the dutching buttons will be disabled.

A key concept when dutch betting is return on investment (profit). On AmWager, the ROI in the ticket area is based on the worst outcome of your dutch bet with your total stake subtracted. You may also click the button to see the full dutch details.
Below we have selected "DutchCost" of $20 on 3 runners. The dutching system calculates the bets should be split at $3 on the 2, $3 on the 3 and $14 on the 6. All wagers will give a payout roughly the same. If any of your wagers come in the worst you can do is a 222% profit.
You can also remove individual wagers from this view by clicking on the remove button.
Invalid wagers, such as those whose stake does not meet the pool minimum stake rules will given an error message in red. You may still submit the valid wagers if you choose. If you want to keep that wager then you will either need to remove other selections or increase your base stake/payout.

After submitting the wager it will appear in your Stacked or Active bets depending on your choice. At that point you can view the dutch details by clicking on the button on the dutch bet line.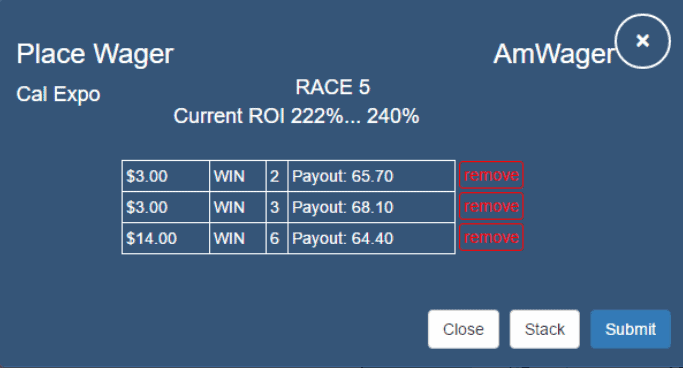 In this view you can view current ROI, ROI at the time you made bet, your individual wagers and the status of those wagers. You may cancel the entire dutch wager by pressing the [Cancel] button on the wager line in the tree or you can cancel individual wagers from within the detail view.